If you cannot see the Site Map/Menu Bar on the left; then your search engine may have directed you to this page only. To go to the Home Page, click http://www.mycetes.co.uk
---
Whitgift Lighthouse.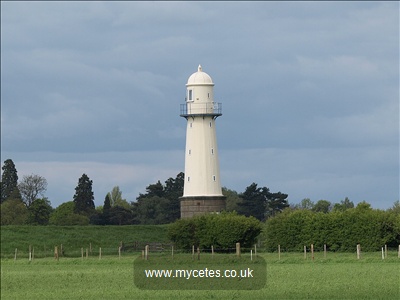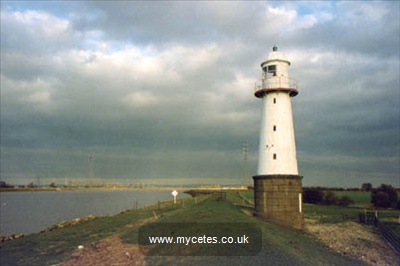 Whitgift Lighthouse on the River Ouse was used by vessels going to and from Goole, and out to the North Sea on the River Humber. The whole length of the Rivers Ouse, Trent, and Humber is lined with marker lights, but Whitgift is the only full sized traditional lighthouse on the Ouse and Trent section.
It is a white painted brick round tower tapering at the top to support a white painted metal domed lantern room and an external gallery with hand railings to allow the keepers access to clean the outside of the light.
The whole structure stands on a circular natural stone base in which there is the entrance door to the lighthouse. It would appear from the fact that there is a door, three windows in a perpendicular line above each other, and a lantern room; that the whole structure must contain 5 floors and in the absence of any keepers cottages; then living accommodation is inside.
---