If you cannot see the Site Map/Menu Bar on the left; then your search engine may have directed you to this page only. To go to the Home Page, click http://www.mycetes.co.uk
---
Teignmouth Lighthouse.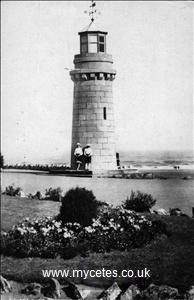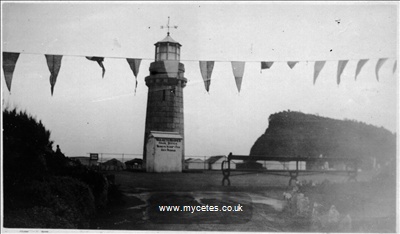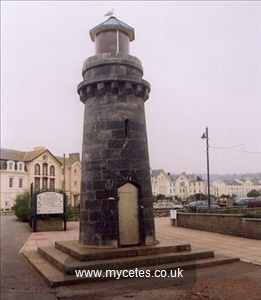 Teignmouth was once a seaport and market town, but today it is now a popular holiday seaside resort at the mouth of the River Teign on the coast of East Devon. On the Western end of the promenade on the sea front, or the Den as it is known locally, is a small lighthouse and a pier.
The entrance to Teignmouth Harbour has always been treacherous and ships experience difficulty in avoiding the Ness Rocks. In the early 1840s Teignmouth Harbour Commissioners decided to erect a lighthouse as an aid to shipping, and a tower was built of blocks of local limestone during the years 1844 to 1845 with the light being shone for the first time in 1845. One account gives the cost as &pound 300, but another quotes a figure of &pound 196 7s. The difference may be that the higher figure includes the lantern or labour costs that might have been omitted from the lower account.
The Earl of Devon, who was Lord of the Manor of East Teignmouth and who owned the land on which the lighthouse was built, paid the surveyor's fee. The circular grey tower is 28 feet high with walls 2 feet thick. Inside is a spiral stone staircase running around the sides until it reaches the light, which is exhibited 34 feet above high water. Originally there were steps leading up to the small access door, but these have been removed when the ground around was levelled. The light is and always has been a fixed red light and is really a beacon or leading light.
When the lighthouse was first built there was criticism about the light's efficiency, but the matter was referred to an Admiralty Court of Enquiry, who proclaimed both the equipment and the structure satisfactory. The lighthouse has never had a keeper, resident or otherwise; never been open to the public, and because of its size, has mistakenly been referred to in Guides as a toy lighthouse. However it is not; it is a real navigational aid.
In Powderham Terrace and close to the Lynton House Hotel, some 200 feet behind the lighthouse is the second leading light, which is a tall pole with a red polycarbonate navigational lamp fixed on the top.
Today the lighthouse is kept clean and maintained by the Harbour Master. It shows a fixed red light visible for 3 miles and when lined up with the leading light behind it provides a safe passage across the sand bars at the mouth of the Teign.
---