If you cannot see the Site Map/Menu Bar on the left; then your search engine may have directed you to this page only. To go to the Home Page, click http://www.mycetes.co.uk
---
Dartmouth Lighthouse.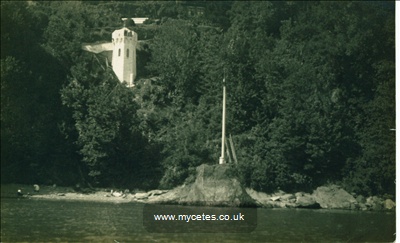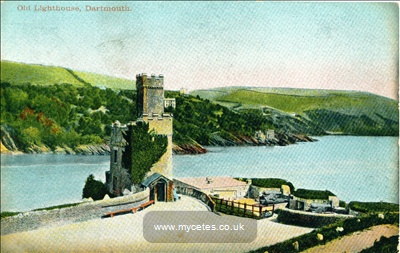 West Side : The Dartmouth Castle stone lighthouse was rebuilt in 1857 and showed a red fixed light at 80 feet visible 10 miles from a white painted square tower. It no longer shows a light. It is next to St. Petrox Church and the Castle.
East Side : There is a white painted hexagonal stone lighthouse 36 feet high as part of Kingswear Castle. A fixed light was shown here from 1864.
By 1981 it was replaced by a small squat white painted circular GRP tower lighthouse with a hooded light currently operated by the local Port Authority and situated on the Kingswear side. The modern tower is 30 feet high and visible for 11 miles.
There is an octagonal day beacon of grey granite 80 feet high on land 500 feet above sea level above the harbour on the Eastern side.
---