If you cannot see the Site Map/Menu Bar on the left; then your search engine may have directed you to this page only. To go to the Home Page, click http://www.mycetes.co.uk
---
Leasowe Lighthouse.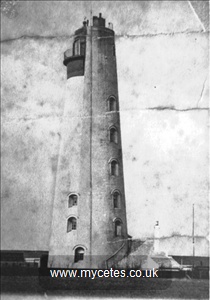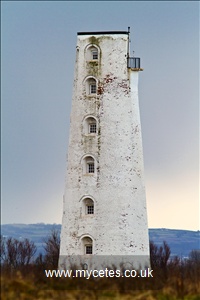 In 1761 an Act of Parliament granted the Liverpool Dock Trustees powers to build four lighthouses of which two were to be built at Leasowe on the Wirral in Cheshire. Their purpose was to assist vessels taking shelter when weather conditions prevented them from entering the Port of Liverpool.
They were originally called the "Lower Mockbeggar Light" and the "Upper Mockbeggar Light". By lining up these two lights, approaching vessels could achieve safe entry into Rock Channel and the Port of Liverpool.
Captain Hutchinson writing in 1777 says "There were no lighthouses till the year 1763 at which time four were erected, two large ones called the Sea Lights (Leasowe) and two lesser called the Lake Lights (Hoylake)".
The Lower Mockbeggar Light or Lower Light was erected on the shore in 1763. It washed away by storm and tidal actions seven years later and little is known about its appearance or construction although it is reputed to have been designed as a moveable one but it was replaced with one built on Bidston Hill in 1771.
Mr Thomas Barclay when giving his testimony in December 1827 before the Royal Commission stated "A lighthouse stood on the beach to the northward of the present one, nearly half a mile distant if not altogether. That lighthouse was long ago rendered useless by encroachment of the water and it was pulled down. The present one was built in 1763 and I assisted in the building of it".
The Upper Mockbeggar Light or Upper Light is still in existence and stands on Leasowe Common as a well known local landmark. The building was built of brick in 1763 as evidenced by the stone engraved "WGM 1763" inserted into the brickwork (being William Gregson, the Mayor in 1763); it is circular tapering to 24 feet wide at the top; 110 feet high. The walls at the base are over 3 feet thick and is said to have its foundations built on bales of cotton which came from a ship that foundered nearby. A keeper was appointed at a salary of &pound 22 per year.
Robert Stevenson in his lighthouse tour of 1801 says "This lighthouse is a huge pile 135 feet high and has one reflector of silvered glass 7 &frac12 feet in diameter and 13 inches focal distance".
The lighthouse originally possessed 130 spiral wooden steps, which gave access to the seven floors; each floor only extended halfway across the interior with the space taken up by the staircase. A fire at another lighthouse lead to the wooden steps being replaced with spiral cast iron ones in 1824. The landings on each floor are also of cast iron.
The light was coal fired and converted to oil burning in 1772. It remained an oil burner for the remainder of its operational life. It was a fixed white light with a catoptric lantern of 3 burners consuming 3 gallons of oil per day and last shone on 5th July 1908.
---