If you cannot see the Site Map/Menu Bar on the left; then your search engine may have directed you to this page only. To go to the Home Page, click http://www.mycetes.co.uk
---
Lighthouse Gossip.
This page contains items of gossip and queries. If you know the answer to any questions raised on this page then please let me know.
---
Masonic Badge ?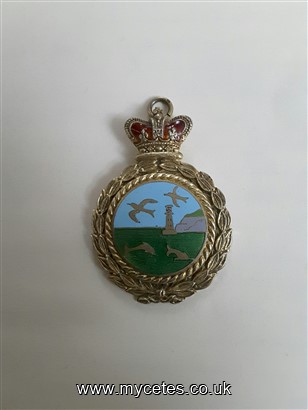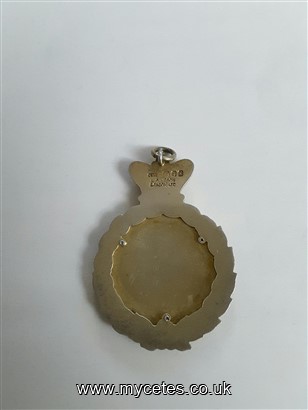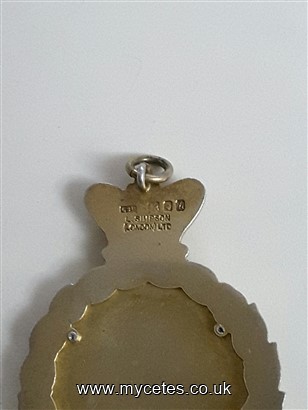 Paul is not sure what type of badge this is. I do not think that it belongs to the three traditional lighthouse authorities that I cover; so I did a quick Google search of L. Simpson (London) Ltd which showed me that is it probably a 1940s to 1970s vintage; and whilst I cannot get the date from the hallmark, the company is well known for its quality work.
It is clearly a pendant (ie not a brooch) and would have hung from a medal ribbon - which leads me to believe it was for a male. I do not think it is a one off commission; but an award for some recognition - perhaps length of service.
It was not an award to a lighthouse keeper; as again; I am pretty sure I would have come across one of these. So that leaves me to believe is is some sort of Masonic award (as Simpson is famous for the manufacture of these - and there were literally hundreds of Masonic Lodges during those years) or a religious award for long service - say Salvation Army as lighthouses are also related to religion; guiding lights etc.
---
Unusual USA Lighthouse Cap Badge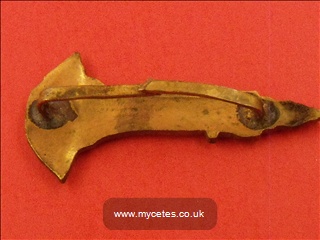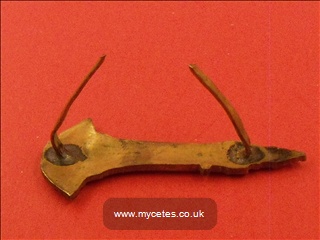 Cindy from the USA says 'I recently ran across your site and wondered if you may be able to assist me in identifying an old badge I found. It was in my grandfathers collection which passed to me with his estate. I've had it for many years and have been trying to identify it every since. My grandfather collected United States lighthouse items and he was great about leaving a note along with each piece telling what it was and where got it. But there wasn't a note with this one. This has made me wonder if perhaps he didn't know where it had come from, so I started searching on the Internet. 20 years later and still no hint as to where it originated, so I've started searching overseas to see if perhaps it belonged to another countries lighthouse service. This lead me to your site so I'm hoping you may be of some help in pointing me in the right direction.'
My answer is that my website gives 3 examples of the type of fittings -
Badge with 2 eyes or '0's soldered on the reverse. Fitted to the cap with a retaining split pin through both holes. Best quality as in 'up market' service peak caps.
Next badge which has one soft metal strip on reverse on top of badge which slips into a puncture hole on the uniform - normally a beret. These metal pins will eventually suffer from metal fatigue and break. This is no 2 quality.
Next the badge like yours - probably 3rd quality as it will be even more prone to break. It probably was a fore runner of badge no. 1, but if not then probably used on the breast pocket, or shoulder flash, or epaulette on a uniform. They have probably been replaced nowadays with an modern embroidered badge.
As your grand father collected only USA, then I would work on the principle that is where the country of origin is. Could it be your own Lighthouse Services; or Coast Guard; or Scouts or Merchant Navy or Religious or something similar. Could it be before your Civil War (I will have to Google it to remind me of the dates). Maybe he never found the answer.
Sorry about the number of times I use the word 'Probably'. I would not like to guess its value (not that you ask) but it is such a nice and quirky item that I would suggest that you hang on to it. With your permission I would like to post a picture of it on my website, and by preserving your anonymity, one day I might get a reply with the answer.
---
Mrs Stephens remembers
Mrs. M.Stephens wrote the following in the 1996 edition of Flash when she was 96 years of age :
"My husband, Richard Stephens, was on the Maplin Lighthouse for years and that slowly sank. He was afterwards appointed to the Hanois, which of course was taken over by the Germans. He closed the lighthouse and descended through a window on a rope. "
---
Hartlepool Zeppelin Artefacts
On 27th November 1916 a BE2C aeroplane from the Royal Flying Corps at Seaton Carew and piloted by 2nd. Lt. Ian Pyott of 36 Squadron shot down the WWI German Zeppelin L34.
The men on duty at the Heugh Lighthouse rowed out to the wreckage some 1800 yards from the lighthouse and tried to save the Zeppelin crew but were too late so they salvaged a number of alloy frame work sections as souvenirs and later made rings and trinkets for their loved ones.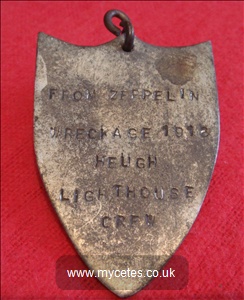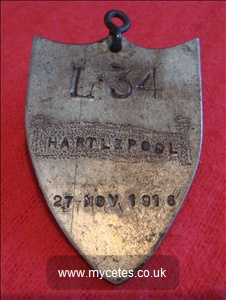 This item came up for sale on eBay and was described as 'An extremely rare gentleman's watch fob made from the alloy duralium airframe wreckage of the great World War I German Zeppelin L34'.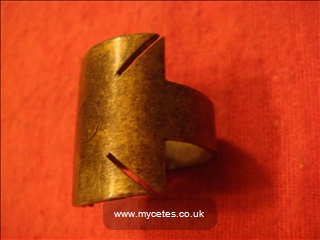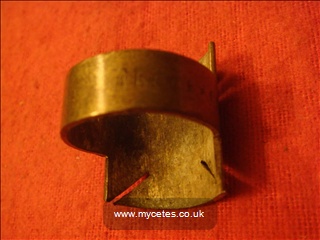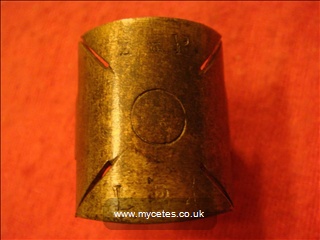 The ring has 'L34' inscribed on the centre and the details of the wreckage around the band.
---
Model Lighthouse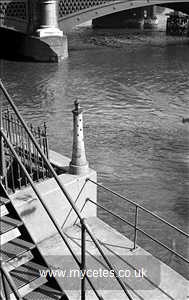 Whilst trawling the internet for another lighthouse related matter I came across this stock photograph taken sometime between 1945 and 1960.
The photograph is taken from the steps of the Victoria Embankment on the River Thames and on the side of the steps entrance is this lovely complete model of a lighthouse with Blackfriars Bridge in the background. A later photograph shows that the lantern has been demolished and replaced by an old tin can. No doubt a hilarious joke to the revellers concerned..
I have not been able to find out whether or not the lighthouse is still there today; nor the reason for its existence.
---
Business Cards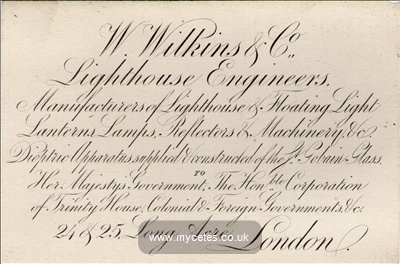 I think that all lighthouse enthusiasts will agree that their interests can grow beyond just the bricks and mortar of these magnificent edifices, in so much that they sometimes feel compelled to acquire related material when the opportunity presents itself.
And that is exactly what I did when I saw a business card for W. Wilkins & Co, Lighthouse Engineers, appear on eBay.
The history of business cards is well documented and can easily be discovered in an internet Google search. The derivation from the Visiting Cards of the rich and aristocracy, over 200 years ago, to the Business Cards as introduced in the USA has turned them into the small wallet sized card that we recognise today.
Gone is the etiquette of whether or not a card should be presented with the left or right hand; should it be presented on arrival or departure; should it even advocate a profession or trade.
So what makes mine so different ? For a start it measures four and one half inches by three inches and is printed in Victorian font on fine card from a beautifully engraved copper plate.
It advertises W. Wilkins & Co of 24 and 25 Long Acre, London as Lighthouse Engineers, manufacturers of Lighthouse and Floating Light Lanterns Lamps, Reflectors and Machinery etc.; Dioptric Apparatus supplied and constructed of the finest Gobain Glass to Her Majesty's Government; The Honourable Corporation of Trinity House, Colonial and Foreign Governments etc.
This company constructed and supplied the lighting apparatus and lantern for Maplin lighthouse in 1848 and Whitford Point lighthouse in 1855. It was represented at and advertised in the catalogue of the Great Exhibition of 1851; and has been involved in the manufacture of lanterns, clockwork mechanisms and optical framework for many UK and overseas lighthouses.
A fine scale model of Maplin lighthouse was exhibited in the exhibition and used to be on display in the Science Museum, South Kensington when I was a boy; but may well now be banished to the stores so that more modern wonders can take it's place.
I like to think that my card was picked up by an interested party at the Great Exhibition in 1851 with a view to conducting business and then placed in a book as a page mark and forgotten because it has been so beautifully preserved since.
And what is Gobain glass I hear you ask. It was and still is a high quality fire resistant soda lime plate glass manufactured in St. Gobain in France.
---
New Lamps for Old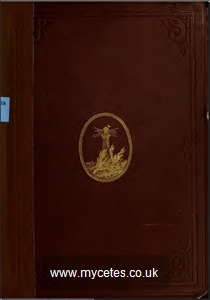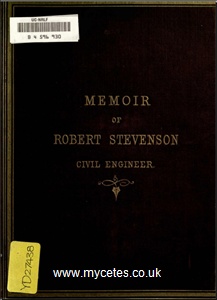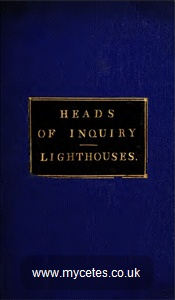 When I was a child in the 1940s a traditional pantomime on the English stage was Aladdin. In the adaption of the Arabian folk tale, a poor boy discovers a magic lamp which will bring him riches, but a wicked sorcerer steals the lamp by offering "New lamps for old" to Aladdin; a poor bargain since the old once was priceless.
If we bring the story right up to date and change the offer to "New books for old" then would we fall for the same deceit.
Take for example a book that I would love to own, but could never afford. It is called 'Ancient and Modern Lighthouses' by David Heap and printed in 1889. When I Googled for a copy I found only two on the whole of the internet. One was for sale in the USA at $ 300 (&pound 187) and the other in Australia at $ 367 (&pound 228).
I would not swap this priceless original for the current modern reprint of it, even though the reprint will be a good facsimile.
But what if I accepted that I could never own this book and then found out that some philanthropic American Universities had scanned this book and, because it is out of copyright, made it available to libraries in digital form; in PDF format to computer uses. You could read it on your home PC, iPad, phone, laptop, tablet, e book; whatever modern form of electronic reader that you have. You could, if you wanted, print out the whole 344 A4 size pages provided your printer could last that long.
The leather covers; marbled fly leaves; the mellowing of the pages; photographs; illustrations; notes in the margin by either the author or a famous previous owner, can be clearly seen; but not touched.
Suppose that this book was available on a CD and that a total of 27 priceless books on lighthouses printed between 1815 and 1915 were also on it; all in the same format at a total of 5416 pages and you could buy all these on one CD for $8 (&pound 5).
Well you can. I have seen them for sale on e Bay from time to time and will buy one next time I see them. I shall then be able to enjoy these beautiful books which were previously beyond my reach.
And so like Aladdin, my pantomime will have a happy ending.
---
Lighthouse toilets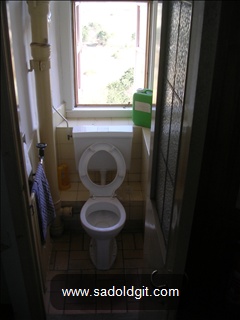 I am often asked the question - which lighthouse had the first toilet. It is a very popular question in pub quizzes. I can only speak for the English and Welsh lighthouses and the question often refers to island rock lighthouses. Shore stations or land lighthouses, whatever description you would like to give them, always had a toilet, either in the lighthouse keeper's cottage a short distance away, or in an attached building. They would have been built up to the same standard as all toilets of the day.
For rock lighthouses, which were surrounded by sea, then this was a different matter, as the two newspaper reports below indicate.
The Mail on Sunday in December 1984 stated that John Clarke, age 32, was sacked as a keeper on the Smalls lighthouse, because he was protesting that there were no proper toilet facilities. They had to use a bucket and throw the contents from the lantern gallery balcony. Presumably he had to wait until the wind was in the right direction. On October 4th 1985 the paper reported that he had won his appeal against Trinity House for wrongful dismissal.
In the Channel Islands, still part of Trinity House, there is the rock station, Hanois lighthouse. Built 1861-2, it was fitted with a flush toilet in the base of the tower. It is the only UK tower rock station to have such a luxury from new. It used sea water to flush and, yes, one had to be careful one didn't get one's own back when enthroned! Also, being near the entrance, your contemplations would often be shared by a number of sea slaters peering at you from the walls. Gerry Douglas Sherwood, an ex Trinity House Lighthouse Keeper experienced these dubious advantages when stationed there in 1971. He states it was best used at low tide on a calm day...
The picture is of a lighthouse toilet, taken in 2004, but for the life of me I cannot remember which lighthouse it is.
---
Trinity House Cap Badges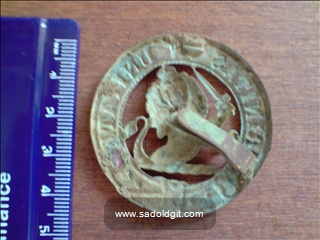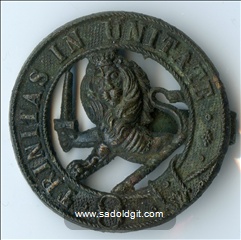 In the last 9 years no one has ever asked about the keeper's metal cap badge, and then within 6 weeks I get two questions. James, a teenager in the Isle of Wight, was metal detecting near St. Catherine's lighthouse and found the cap badge shown in the two pictures on the left. John was metal detecting near St. Ann's lighthouse in Wales and found the one shown in the picture on the right. Both have been cleaned up for the photo, have the fastening pin on the reverse, and are 4.5cm wide. I have spoken to my friendly ex lighthouse keeper, who in turn has consulted the archivist at Trinity House and we can confirm that it is a metal cap badge belonging to a keeper. It is probably Victorian and was still being used up to World War 1.
William Kelly was a keeper at St. Catherine's lighthouse, and a photo of him at the Maritime Museum in Falmouth shows him wearing a cap with this badge. He was keeper there from 1914-1918. An even older photo shows keeper George Freeman with the same badge in his cap. Fred (surname not given) in another photo shows the same badge. This style soon was replaced and my experts, who were young keepers during the war, confirm that their badge was cloth backed and embroidered with gold thread. The type of badge can sometimes indicate the rank.You can see a selection of cap badges at Cap Badges .
Well done to the two enthusiast metal detectors and long may they find buried treasure.
---
Lighthouse Keepers - A Music Hall Joke ?
Those of us who are old enough; or dare I say bordering on the description of 'ancient' will remember the last days of the Music Hall. In the Victorian and Edwardian heydays this popular form of entertainment had no class divide and was enjoyed by both the privileged and the poor, side by side. One of the categories of amusement was the comic and dramatic monologues performed by artists such as Bill Bennett and Nosmo King (yes; a play on No Smoking). My grandfather, George Carter, was an unsuccessful music hall performer.
The comic monologues were sometimes a parody of a serious piece of work. Tennyson's Crimean 2The Charge of the Light Brigade2 was amended to "The Charge of the Tight Brigade" ( a football match with Woolworth's Arsenic; really Woolwich Arsenal ) and "The Charge of the Night Brigade". Others were especially written to have the audience rolling with laughter in the aisles and the lighthouse keeper was a good source of fodder for fun. Here are three that I could find.
The Light That Almost Failed .
The Lighthouse Keeper's Story .
---
Now and Then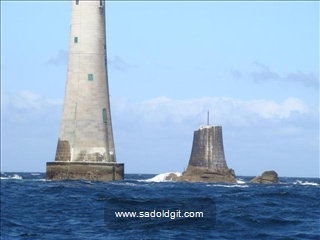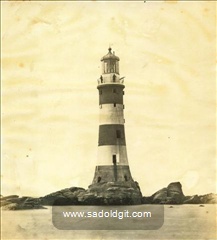 Now; is a photo of the base of the Smeaton's Eddystone Lighthouse I took on 19th July 2008 (my birthday). Then; is circa 1870 sepia tone photograph of Smeaton's Eddystone Lighthouse taken from exactly the same angle and almost the same tide. This old photograph was taken by "Groom & Co Photographers, 83 Union St., Plymouth." and as far as I am aware has not been published for at least 100 years. There appear to be four keepers; two on the gallery and two outside on the base rocks fishing.
Now; what are the chances of getting it right again ?
---
The Bishop visits the Bishop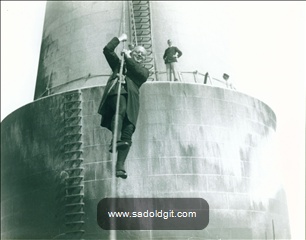 Every picture tells a story. At first glance you could be forgiven for thinking that this is yet another photograph of the relief of keepers at any rock lighthouse but upon closer examination you will observe that the visitor is not a keeper.
The lighthouse is one of the most exposed in the world and is the Bishop Rock; off the Scilly Isles, beyond Cornwall.
These two rare photographs were taken in August 1936 and show the Bishop of Truro, a local Cornish man, Joseph Hunkin, being winched by hand some thirty feet in the air to the entrance door of the Bishop Rock lighthouse.
Unlike normal visitors who were lashed to the ropes, the Bishop, accompanied by his Chaplain, E. C. Seager, were hauled up in the same traditional manner as lighthouse keepers; as a mark of respect to them. The Bishop Rock lighthouse was the last Trinity House lighthouse to use a hand winch.
The Bishop had arrived at the lighthouse in order to perform the religious ceremony of confirmation for two keepers there and then and after the service he helped to land the provisions.
The pilot boat may well be the local "Lilly of Laguna" run by the Hicks family, of which one was a keeper on this light.
The photographs were probably taken by a member of the Gibson family and appeared in the local and national papers at the time with the Daily Mirror running an article on it. It was the only time that a Bishop from the House of Lords, in full Church of England dress, had visited the Bishop Rock lighthouse. This sight will never be seen again.
In 1950 the unfortunate Bishop Hunkin died in the local dentist's chair.
This era was in the glorious hey day of the Atlantic steam liner crossings. One of the additional duties of the keepers of this light was to verify and certify the timings as the liners reached the Bishop Rock.
Although not a race, the lighthouses at Bishop Rock and Ambrose, New York harbour would record the time of the steam liner passing and the one that completed the 3,044 mile crossing in the fastest time was allowed to fly the Blue Riband until that record was beaten and the Blue Riband was passed to the next fastest liner.
And yes !, I do know who currently holds it now; do you ?.
---
When is a lighthouse not a lighthouse No. 1 ?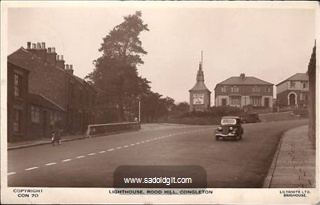 When is a lighthouse not a lighthouse ?. Over the years I have become an expert on English and Welsh lighthouses and have always assumed that only maritime navigational aids existed.
Then a few years ago I saw my first picture of an aerial lighthouse at Tatsfield in Surrey which guided aircraft on the Croydon to Paris air route. After comprehensive research I became enthralled with them as well.
Now I have seen my first picture of a motoring lighthouse designed to aid that new breed of motor car drivers travelling through Cheshire.
In 1924, Sir Henry Maybury, Director General of Roads, Ministry of Transport, formally opened a road lighthouse situated on the A34 on the top and on the bend of Rood Hill, Congelton, Cheshire on a stretch of road considered at that time to be one of the most dangerous in the country and which had claimed many victims.
It was built of ferro concrete and stood 28 feet high. The ground floor of the lighthouse had two 6 feet windows each with a canvas sign bearing the words 'DANGEROUS HILL. CHANGE TO LOW GEAR' . The wording was in 16 inch high red letters and was illuminated at night by incandescent gas burners of 2,000 candle power. Also at night the upper part of the tower had additional illuminated signals indicating danger and crowned on the top was a powerful flash lamp contained in a lantern.
The 9 foot square ground floor room was used by the Royal Automobile Club for the benefit of motorists who could use the gas stove and a wash basin with hot and cold running water. They could use it in the same manner as AA and RAC members could use the respective roadside booths which were so common place in my youth. A universal Yale key given to members fitted all country wide locks.
At the opening ceremony, Dr. Fenn, the Mayor of Congelton said that the lighthouse was unique being the only one one in the country and would undoubtedly be copied by other local authorities. The Ministry of Transport contributed 50% of the total coast of &pound 7004 for the road widening scheme and the construction of the lighthouse.
So there we have it; Britain's only road lighthouse; a pioneering beacon of light, established in Cheshire in 1924. History has shown us that it was not copied by other local authorities and it was demolished in August 1939 to make way for the new by pass.
When is a lighthouse not a lighthouse No. 2 ?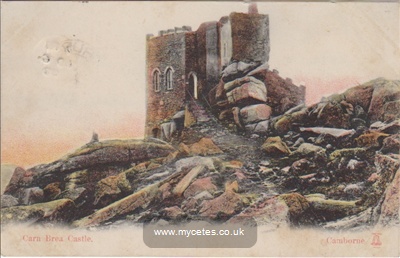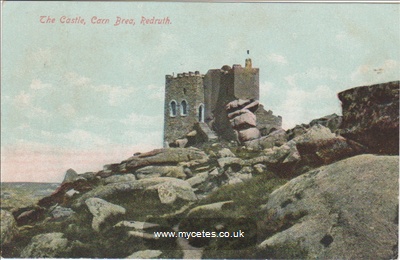 Question; When is a lighthouse not a lighthouse?. Answer; When it is a copper mine.
That is not a joke from a cheap Christmas cracker but a conundrum that faced Trinity House many years ago.
There is a piece of barren moorland called Carn Brea not far from where I live in Cornwall and on its summit at 228 feet above sea level there is a derelict castellated building known as the Carn Brea Castle Restaurant which has not operated as such for many years. That is all there is to see.
Cornwall is scattered with the remains of its mining heritage and the sight of derelict chimneys and mine buildings is commonplace. About 1815 there were several mines established on Carn Brea, but the "restaurant" was built to a rather unconventional design. The engine stack was built of granite about 70 feet high and disguised as an ornament for the moors and a beacon for mariners. It was integral to the engine house, also built of granite and both were square and castellated and designed to remain long after the abandonment of the mine.
With the permission of Trinity House a light was exhibited from this building and as such it was not a "false light" often associated with Cornish wreckers. When then mine ran dry and ceased to function the landowner converted the engine house into a dwelling known locally as the Castle. At some stage the tall chimney was removed to roof level of the building but the remnants of it can still be seen today.
The tenant's lease contained a clause that a light at night should continue to be exhibited from a specified window facing the Bristol Channel about 4 miles away. This beacon light was plainly visible to sailors and helped to establish their position at sea long before any lighthouses were built on the west coast of Cornwall.
By the 1880s Trinity House had established lighthouses on this stretch of sea, and the need for the Carn Brea light, which was faithfully lit in accordance with the covenant in the lease by a succession of tenants, was finally extinguished with the permission of Trinity House. However, old habits die hard and the last tenant continued to show a light every evening for another 10 years or so; extinguishing it at 11pm or midnight, depending on what time he went to bed.
So next time you see a decrepit old building, please think kindly of it, as you may never realise what an important role it may have played in its early life.
When is a lighthouse not a lighthouse No. 3 ?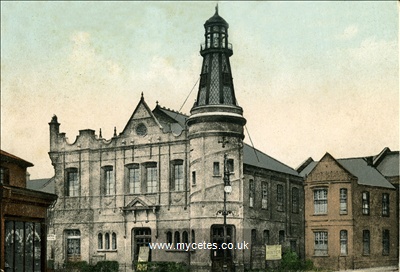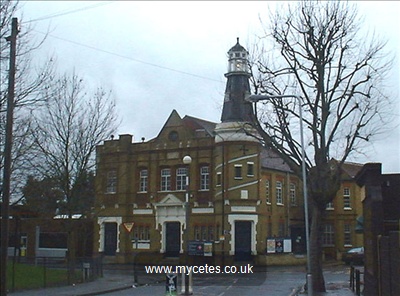 My thanks go to Chris McCartney for discovering this one. In 1887 a group of young people from the Wesleyan Church in Blackhorse Lane found a house in Myrtle Road Walthamstow and made some alterations to accommodate the growing numbers of their congregation and then formed the United Free Church.
Gradually, the house in Myrtle Road became too small and this is where Captain King of the "Bullard King Steamers" appears on the scene. For it was he that purchased a plot of land (on the southerly corner of Markhouse Road and Downsfield Road) and erected a large tent. This was used for services up to 1889 when Captain King donated an Iron Hall at a cost of &pound 250. This seated 250 people.
In 1893, the present building was erected which seated 853, and the Iron hall was transported to Lloyd Park when the church there was founded.
Why a lighthouse 35 miles from the sea? This was at the request of Captain King who ironically died the same year. If you look carefully at the above photograph, you will notice that the light is illuminated. This is used instead of ringing bells to attract the congregation.
A big effort was successfully made to clear all debts on the church during 1914-18 war "before the boys came home" and during the 1920s, &pound 1,000 was raised for re-seating and re-heating the church.
The Lighthouse sustained some damage by incendiary bombs during the Second World War, but managed to weather the storm!
In 1967 (the Lighthouse's 80th birthday) there was a flourishing Sunday school which saw three of its members become Methodist Ministers.
There has been some doubt as to the future of the Lighthouse church, but a few weeks ago in 2012 the whole of the outside was renovated, and it now looks superb.
And now for something completely different.
Can you put me out of my misery ?. This objects adorns the top of a building at Kings Cross, London. I know it is not a lighthouse; but it looks very much like one. Do you know anything of its history ?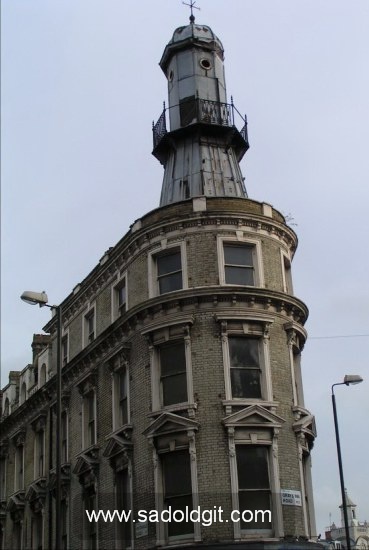 ---
Medals and medallions
Here are two interesting items I saw for sale on eBay -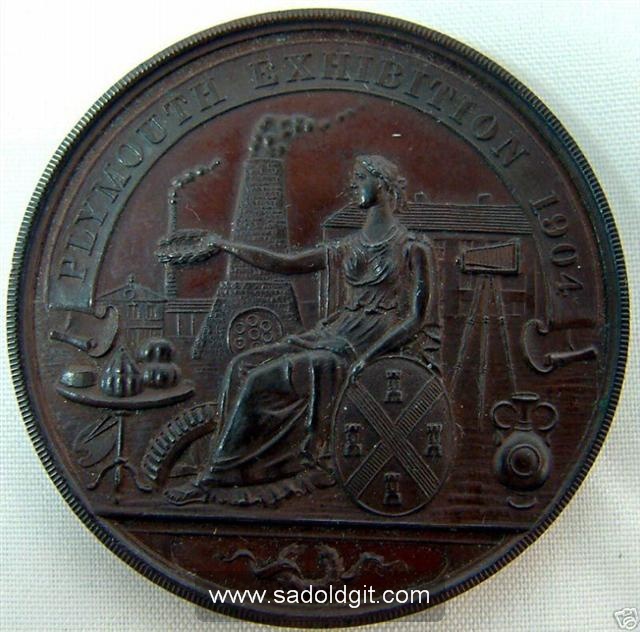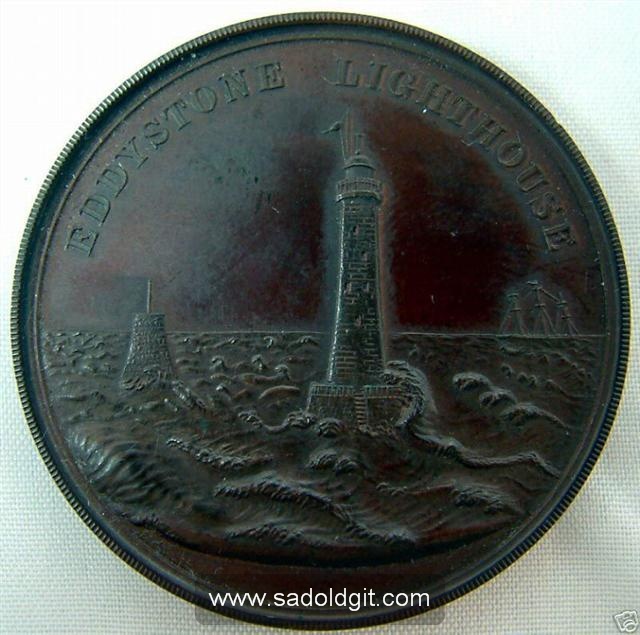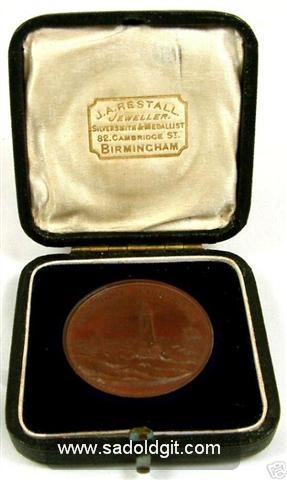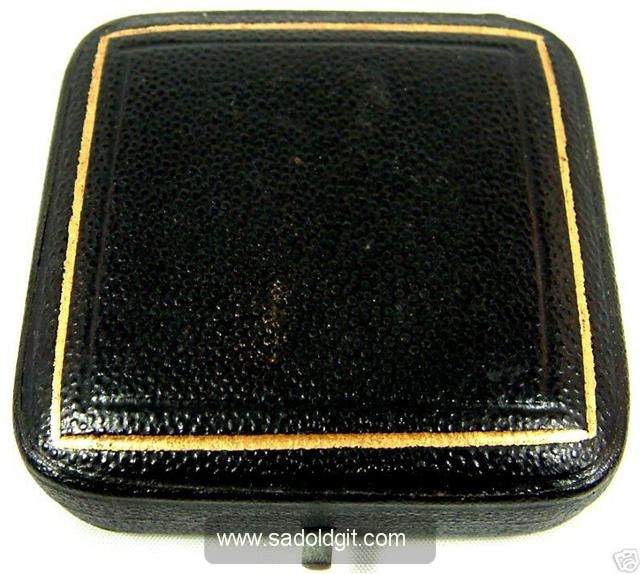 The first (as above) was described as "STUNNING Eddystone Lighthouse medal dated 1904 Plymouth Exhibition in its original box - showing retailers J A Restall (Jeweller, Silversmith and Medalist) 82, Cambridge Street, Birmingham. The obverse show the Eddystone Lighthouse in brilliant details and the reverse has a view of Britannia surrounds by the latest technology marvels of the day and written "Plymouth Exhibition 1904". Has a diameter of 3.8cm and weighs 26g. Both medal and box in EXCELLENT fault free condition." It was not cheap but what a lovely thing to possess.

The second (as above) was described as "A fine and rare 1947 British Empire Medal awarded to Andrew S. Wood, the Assistant Lighthouse keeper of Hyeskeir Lighthouse, situated on the Mills Rocks, near to the islands of Sanna and Rhum in Scotland. British Empire Medal, Civil Division, GRI Cypher, named to: (ANDREW S. WOOD). With Buckingham Palace forwarding award document for his BEM, named to: Andrew Stewart Wood Esq., B.E.M., dated 1st August 1947. Andrew Stewart Wood was awarded his British Empire Medal on 1st August 1947 for his services as Assistant Light House Keeper at Hyskeir Light House, Scotland. Hyskeir (Oigh Sgier) Lighthouse is situated on rocks approximately 5 miles south west of Canna and 8 miles west of the Island of Rhum. Established in 1904 to light the southern end of the Minch and to warn shipping off Mills Rocks, Canna Island and the rock on which the lighthouse is built. A rare and interesting award relating to Light Houses, though there is no researched citation for this award, it being awarded in 1947 just post WW2, it would be safe to state that Wood probably served in this post throughout the war, a post of extreme responsibility with the large amount of wartime shipping. There is also a possibility that he won this award for an act of gallantry in life saving. Needs further research."
I agree with the comments and hope it went to a good home.
---
Longships souvenir ?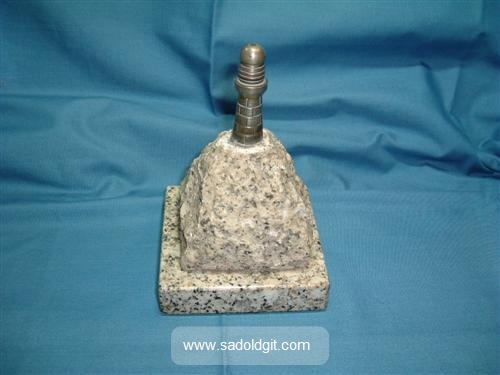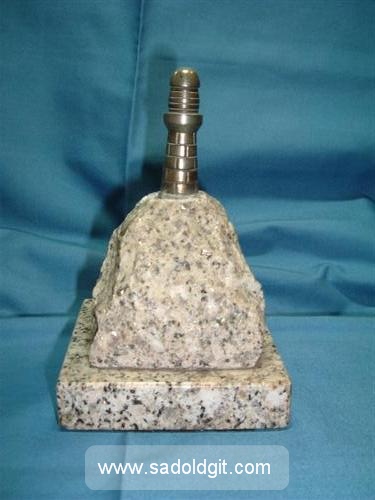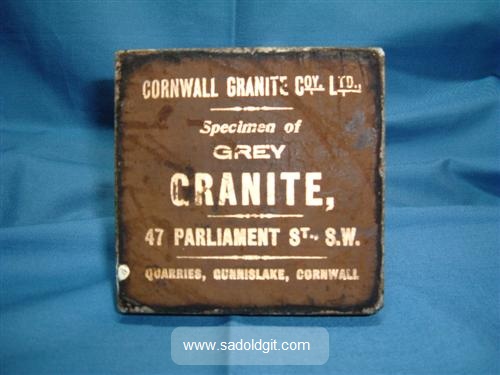 I came across this paper weight recently except that it is not a paper weight but the equivalent to a Victorian specimen or perhaps a business souvenir. The base is made of polished granite and the metal lighthouse could be any rock lighthouse but on the base is the suede label indicating the type of granite and that it was quarried at Gunnislake. The location of the quarry means that it would have to be reasonably near a railway or a canal. Gunnislake fits this condition but the Cornish Granite Co had gone out of business in 1870 and was formally wound up.
Was it a sample presented to Trinity House to encourage them to purchase their granite from the quarry of Cornwall Granite Co. Ltd. or was it a souvenir given to Trinity House once the lighthouse was built. Perhaps the quarry displayed it at their London offices in Parliament Square.
I do not know the answer but I guess that as a last chance to to make a profit then this was submitted to Trinity House in 1870 in a bid to win the contract for the Longships which was completed in 1873. It looks as though they did not win the contract and went out of business; but it does look remarkably like the Longships lighthouse.
---
Lighthouse Penny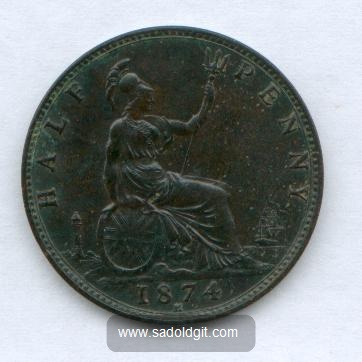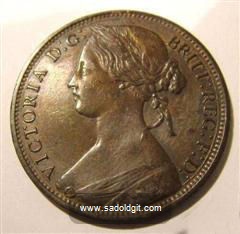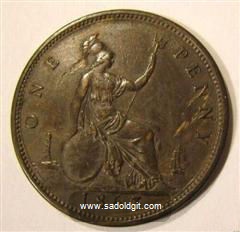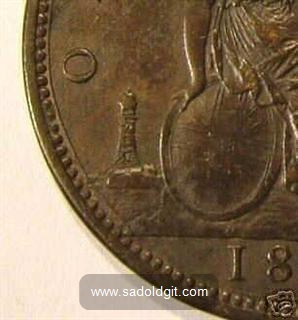 Can you see the lighthouse on this old coin ?. In 1859, the Royal Mint commissioned Leonard Charles Wyon to design new coinage, with a new portrait of Queen Victoria, and to celebrate the centenary of the Eddystone Lighthouse built by John Smeaton, showing the lighthouse and a ship either side of Britannia. Leonard was the son of William Wyon, designer of the Wyon Medal, used as the design for the first postage stamp, the Penny Black. Leonard was unable to visit the Eddystone and is supposed to have used the lighthouse at Shoreham near where he was living as a model. The first coins, a farthing, halfpenny and penny, showing the lighthouse where minted in 1860, and the lighthouse remained on the three coins until 1894. However, a new lighthouse design, showing the 1882 Eddystone was introduced in 1937 on the pennies minted for George VI, and remained on the penny until decimalisation in 1971.
---
NLB Keeper's waistcoat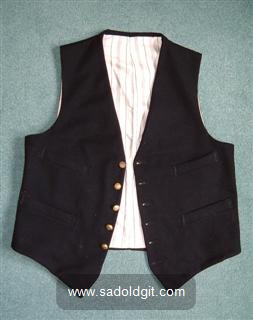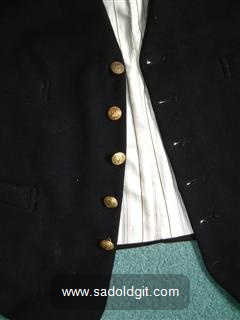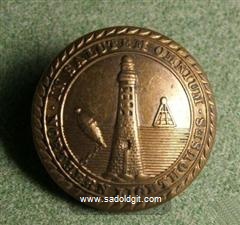 I came across this Northern Lighthouse Board Lighthouse Keeper's waistcoat in a second hand book shop in Broadford, Isle of Skye. It was part of Murdo Lamont's official uniform when he was a keeper and I would guess it dates from the 1940s when it was still part of the Northern Lighthouse Board's uniform. Look at the lighthouse on the buttons. His father was John Lamont (note worthy of the fire incident at Skerryvore 1954) and his brothers were John and Hector. His grandfather was Murdo Sutherland. All five of these men were lighthouse keepers for the NLB with Murdo retiring in 1990 after closure of Neist Point after 34 years service at that light.
---
Wolf Rock temporarily replaced
Now here is a sight that has never been seen before and will never be seen again. Wolf Rock lighthouse has just been converted to solar power and whilst the conversion was taking place the Wolf light was extinguished. A temporary light of the same characteristic was provided by Light Vessel No.22 named 'Wolf Rock' and moored close to it.
I took some photographs from the RMS Scillonian III in July 2003 as the boat passed the lighthouse but they were of poor quality. The good news was that I was able to persuade a local fisherman to take some photographs for me and the following are just a selection of 24 pictures that he took.
Francis, the helmsman of the crabber 'William Harvey' took some of the photographs in mid September, and the last few shown below on Friday 26th September as the light vessel was due to be removed early the following Saturday morning on completion of the work.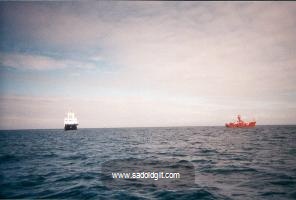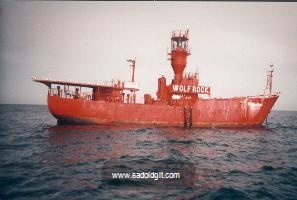 The photo on the left shows the Mermaid and the light vessel. A keen eye will spot Wolf Rock just left of mid way between the two vessels. As the light vessel was moored 1.25 miles away from the Wolf then this is the only type of shot that will get all 3 in one frame.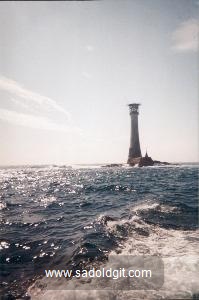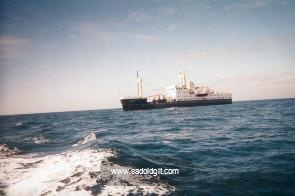 As you can see Francis then sailed close to the Wolf - note the exceptional low spring water level unusually exposing the rock, and close to the Trinity House vessel 'Mermaid' and close to the light vessel.
During his fishing expeditions whilst the conversion was taking place he watched the service helicopter land on the pad at Wolf Rock. The down draught of the helicopter caused the brief case of an important official to be blown away and dashed on the rocks below. He received a frantic radio message from the pilot of the helicopter requesting him to attempt to save, not the battered brief case or documents spreading on the sea like foam, but the owner's wallet which contained credit cards. Needless to say Francis located and 'fished' the wallet and credit cards thus preventing the mermaids a credit free shopping spree and the owner did not have the hassle of reporting his credit cards lost.
The story is true but you will not find it reported in the papers because that is the way Cornish fishermen work and why, for no reward, he took all these photographs for the benefit of those interested.
---
NLB old button ?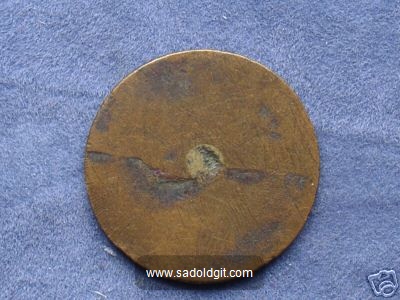 These were advertised on eBay as 'very old Northen Lighthouse Board buttons'. They may well be.
---
John Pinches medallions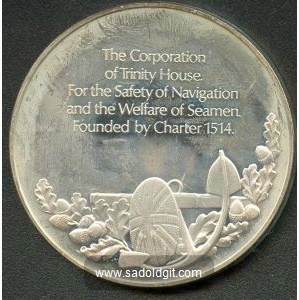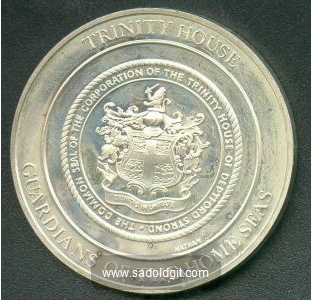 John Pinches started,in 1974, to create a set of sterling silver medallions depicting 100 of the greatest works of all time. Here is his tribute to the work of Trinity House. The purchase price of one of these medallions at the time was &pound 25,
---
What on earth is this ?
My old friend Gerry has unearthed the following object and would like to know what it is :-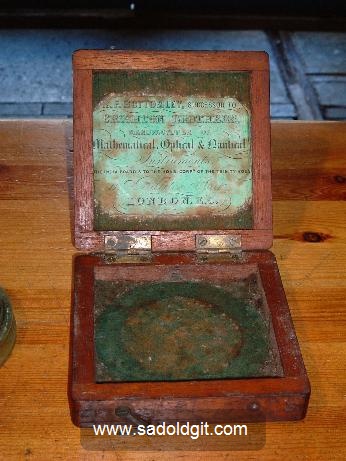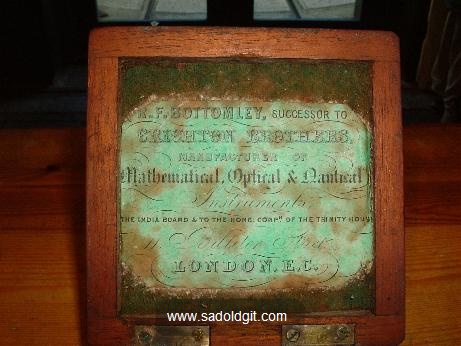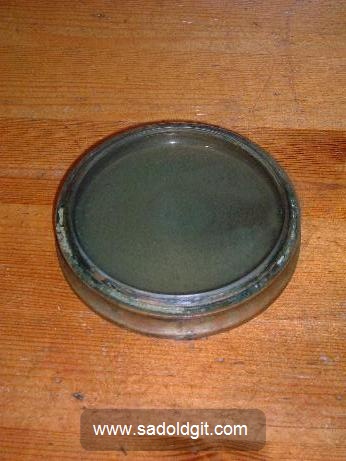 The wooden box is about 4 inches square. The label in the lid says 'R.F.Bottomley, successor to Crichton Brothers, Manufacturers of Mathematical, Optical and Nautical Instruments. The India Board & to the Hon. Corp. of the Trinity House, Billiter Street, London EC.'. For the avoidance of doubt I would stress that the address given of Billiter Street is that of R.F. Bottomley and in turn is not far away from Trinity House. It would appear that Bottomley were manufactures to both the East India Company and Trinity House. You can see the indentation of the round brass object that rests inside. It is made of brass and the brass rim glass lid is held in place by one brass screw at the side. It is water tight as the object contains a fluid which has not evaporated over the years. Well - your best guess please.
---
Military Uniform Shoulder Badge ?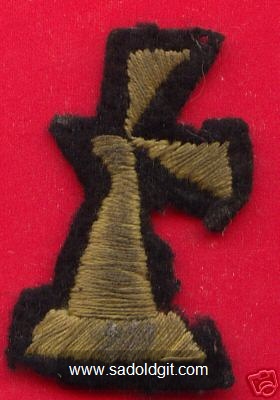 This shoulder flash badge intrigues me. It was advertised as being 'old, possibly WW2, and from a uniform'.
---