If you cannot see the Site Map/Menu Bar on the left; then your search engine may have directed you to this page only. To go to the Home Page, click http://www.mycetes.co.uk
---
Gunfleet Lighthouse.
Peter who lives in Clacton on Sea very kindly took these photographs for me whilst he was fishing. He took them on the 30th April 2005 and this is the nearest that any one of us is likely to get of a tour of this now derelict lighthouse.
If you want to read the history of this light you will find it in my Lost Lighthouses page Gunfleet Lighthouse.
Thanks Peter for an excellent tour.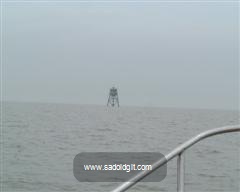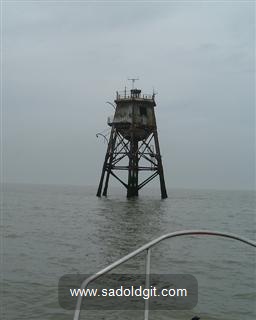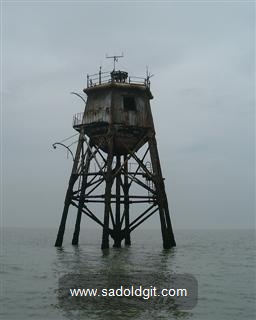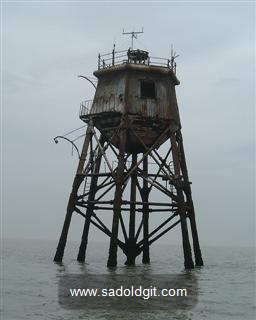 Peter went as close as it was sensible to do so as this structure is unsafe and the sea hides the treacherous Gunfleet Sands. He says the area immediately around the lighthouse does not dry out. He has been there a few times and there is always a minimum of 2 feet of water around it. He has a motor cruiser that can handle depths down to about 18 inches. When he took these pictures he had about an hour to go before low tide and according to his depth finder he had a depth of 8 feet.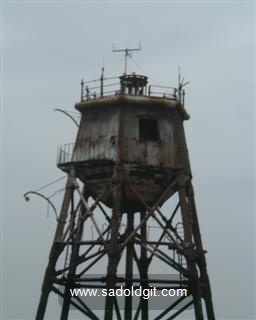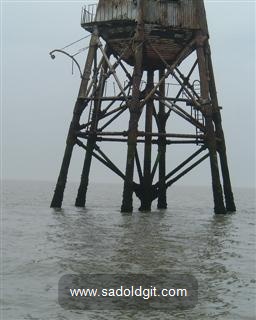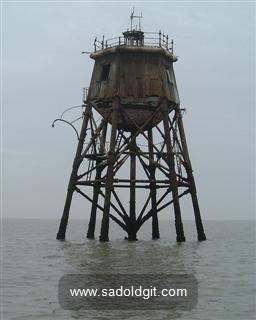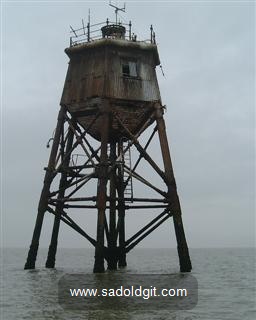 He has drifted around this old iron pile structure so as to get a good view from every angle. The main supporting structure is very sound despite the constant contact with salt water.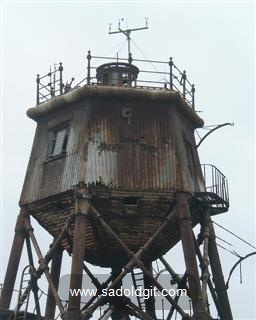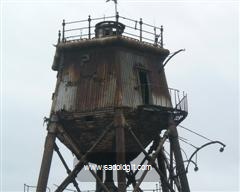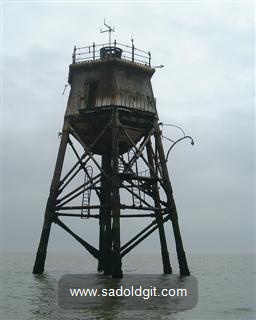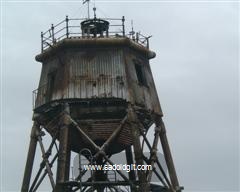 These close up photographs are particularly good as they show that the original materials used are still there. The corrugated iron parts are almost completely rotted and Peter thinks an attempt to get on the lighthouse would be foolhardy and dangerous. He says that someone did try a couple of years ago and ended up with a broken leg from one of the ladders. An injury like that some 7 miles off the coast is not recommended.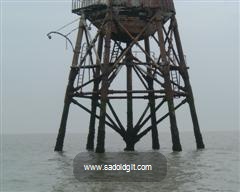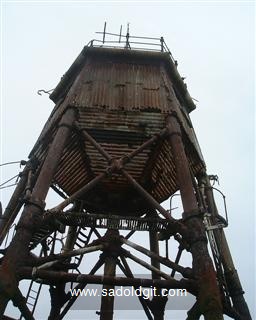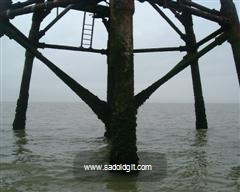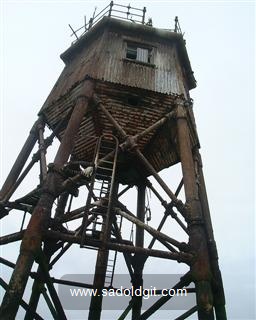 The rust is well established and the two similar constructions in the Thames were pulled down over 50 years ago when the piles on which they stood rusted through. Peter continues to say that the area is a drying sandbank as it does dry out completely at low tide. At high tide the current going over the bank is quite fast. The area also has gill nets around and although well marked because of the current it is very easy to get caught in them.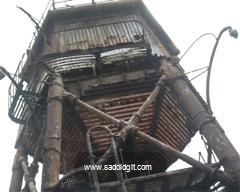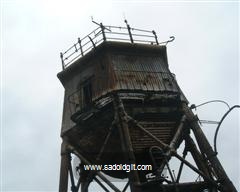 Peter says that plans for a large offshore wind farm to be constructed in the area are well under way. Testing has been carried on for quite some time with the actual construction due to start in summer 2006. The wind farm will not affect the lighthouse in any way whatsoever and there are no plans to remove it, so it looks as though that this structure will remain for many more years. It is a testament to it's builders.
---