If you cannot see the Site Map/Menu Bar on the left; then your search engine may have directed you to this page only. To go to the Home Page, click http://www.mycetes.co.uk
---
Lighthouse Keeper's Cap Badges; Buttons and other items.
---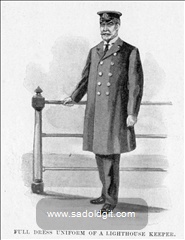 Trinity House keeper's uniform in the 1900s
There are two schools of thought when it comes to cap badges. One school will not entertain re-strikes or copies. The second school will and I belong to the second school. Under normal circumstances not only are original badges difficult to come by but they will be very expensive.
When an original metal cap badge is made the manufacturer is supplied with the metal die from which to produce them. Sometimes the manufacturer produces more than requested so that he has a few spares left over in case of any rejects and if there are no rejects then the spares are no good to him.
When the contract is finished the die should be returned to the customer and it has been known for these to end up on rubbish skips. So a re strike is one that is made to the original customer and manufacturer's specifications using an old die but was never actually authorized. If you are ever offered a metal cap badge (in this case an Irish Lights one) cheaply then it is likely to be a spare or a re strike. Compare an original to a restrike Irish cap badge below.
Next is the embroidered Trinity House cap badge which was made for those on board Trinity House tenders and is a re make to the same stringent conditions. The Trinity House Pilot's cloth cap badge and the Principal Keeper's and Assistant Keeper's badges on the right are genuine.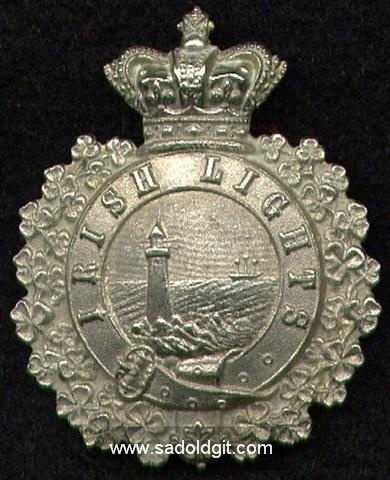 Left - Irish Lights; brass and Right - Irish Lights; silver. Different quality for senior lighthouse officers.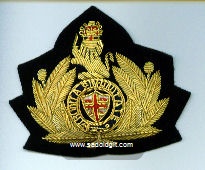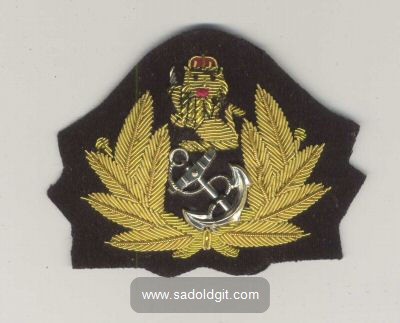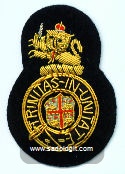 Trinity House cloth badges. A photo of a metal badge is below.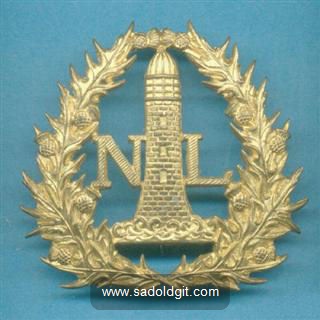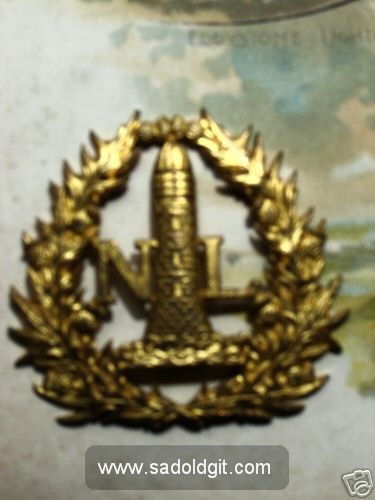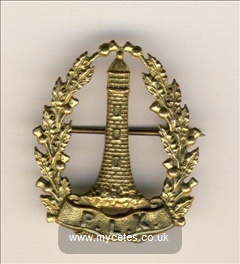 A selection of Northern Lighthouse Board badges.
---
Northern Lighthouse Board Cap Badges.
This one has PLK on it which stands for Principal Lighthouse Keeper but noticed that it does not have NL.
This NLB PLK badge is much older and has more wear and tear that the shinier one above. Notice that the lighthouse is smaller and the maker is Gaunt.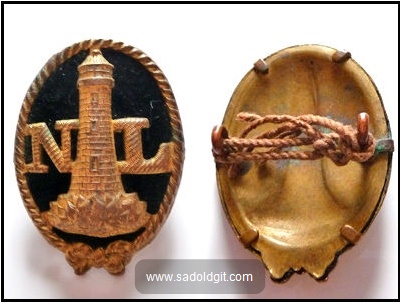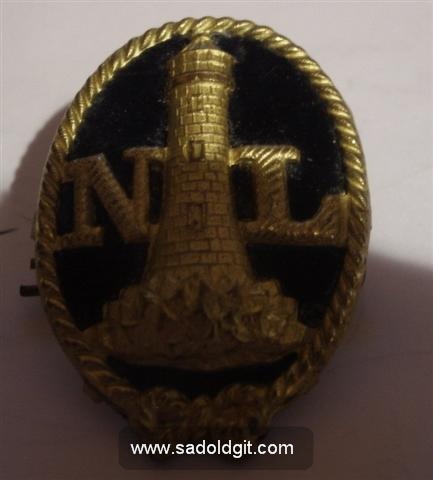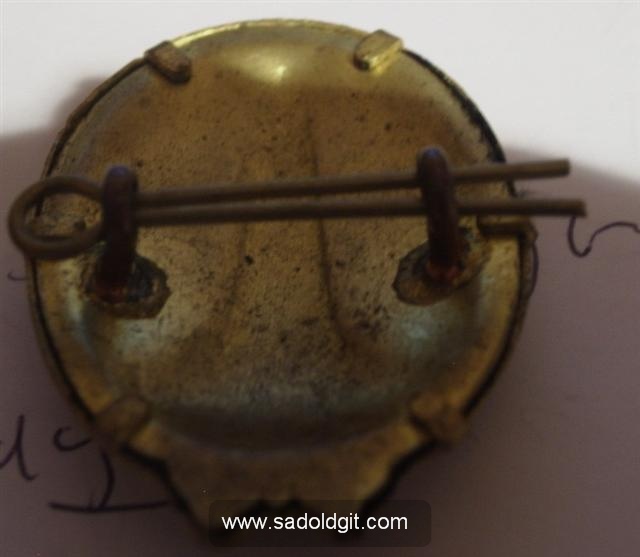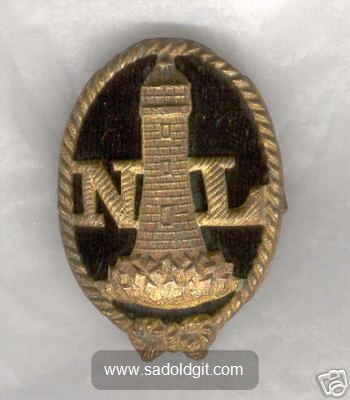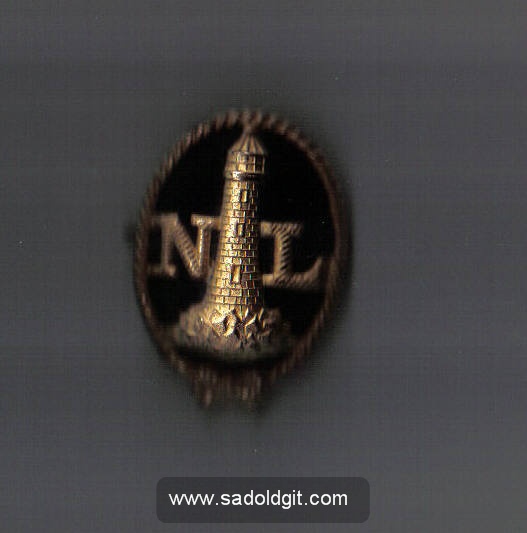 More Northern Lighthouse Board badges.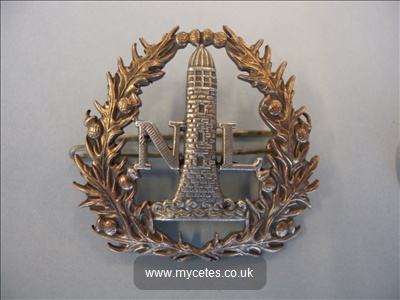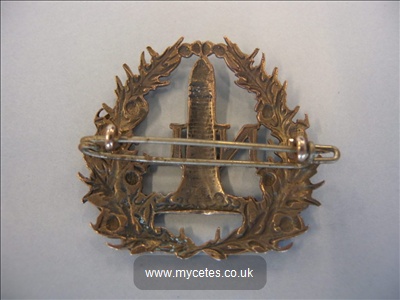 This fine specimen belongs to Lyndon in Australia.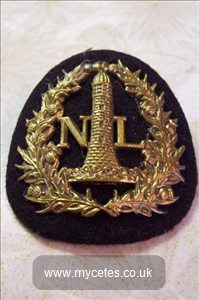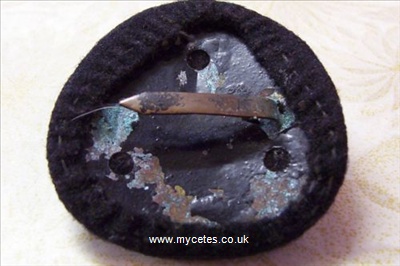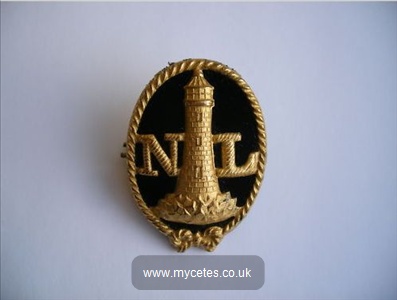 ---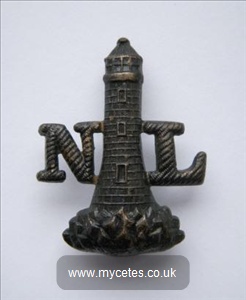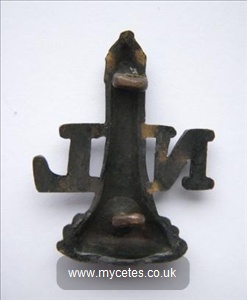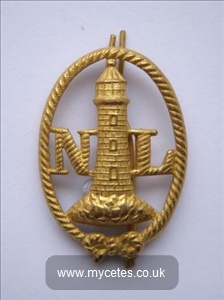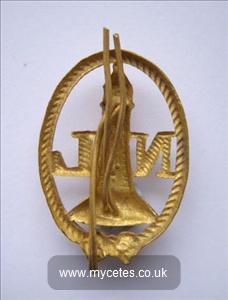 These fine specimens are among a collection of badges which belong to Manny.
---
Irish Lighthouse Cap Badges.
To the best of my knowledge this badge dates back to the establishment of the Commissioners of Irish Lights, in their present form, in 1867. It was worn on the uniform caps of two branches of the Service and came in two different forms. The all-brass badge was worn by the Assistant Keepers on lighthouses, and by the ratings on board lighthouse tenders, while the same brass badge with its central pictorial disc in silver was reserved for Principal Keepers on lighthouses, and Petty Officers on board the tenders. The use of these two badge types was discontinued in 1972.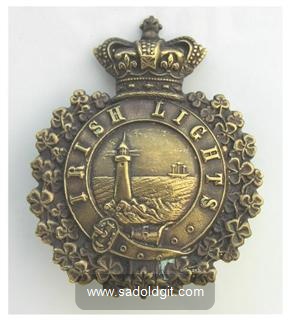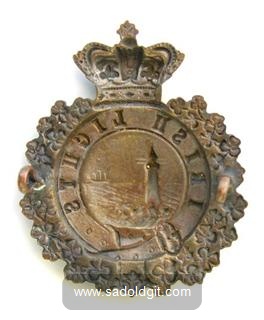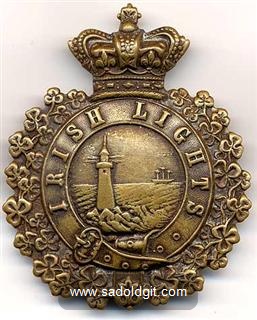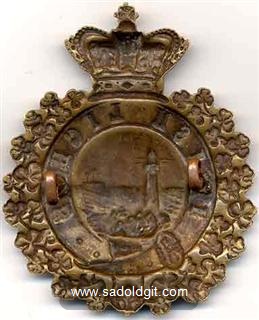 Can you spot the restrike. ? The front and reverse view on the left (or top if that's the way your browser shows it) appear to me as genuine as they shine as brass and a small remnant of brass polish can be seen. The front and reverse view on the right (or bottom) do not have the same shine of quality about them and I suspect that it is a restrike.
Both these items appeared on e-Bay and neither stated that they were original.
---
Trinity House Cap Badges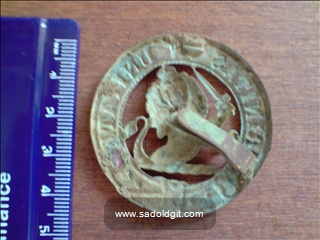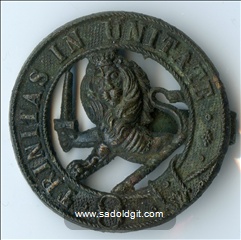 In the last 8 years no one has ever asked about the keeper's metal cap badge, and then within 6 weeks I get two questions. James, a teenager in the Isle of Wight, was metal detecting near St. Catherine's lighthouse and found the cap badge shown in the two pictures on the left. John was metal detecting near St. Ann's lighthouse in Wales and found the one shown in the picture on the right. Both have been cleaned up for the photo, have the fastening pin on the reverse, and are 4.5cm wide. I have spoken to my friendly ex lighthouse keeper, who in turn has consulted the archivist at Trinity House and we can confirm that it is a metal cap badge belonging to a keeper. It is probably Victorian and was still being used up to World War 1.
Well done to the two enthusiast metal detectors and long may they find buried treasure.
---
William Kelly was a keeper at St. Catherine's lighthouse, and a photo of him at the Maritime Museum in Falmouth shows him wearing a cap with this badge. He was keeper there from 1914-1918. An even older photo shows keeper George Freeman with the same badge in his cap. Fred (surname not given) in another photo shows the same badge. This style soon was replaced and my experts, who were young keepers during the war, confirm that their badge was cloth backed and embroidered with gold thread. The type of badge can sometimes indicate the rank.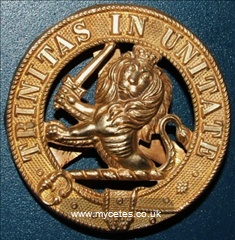 Recently this Victorian Lighthouse Keepers badge came up for sale on eBay. It was described as "Has been used but is in good condition. Blade fittings to the reverse. Size: 45mm x 45mm. This badge originated from the J.R. Gaunt Archive." So it was authenticated as having come from the original archive of J.R.Gaunt and Son who were established in 1884 and were badge and button makers to the armed forces as well as Trinity House. It was no longer required by the museum which subsequently obtained it and the sold to a collector for the highest bid.
---
And finally; on the left, here is a picture of John Redfern, keeper of Godrevy Lighthouse. The photo appeared for sale on e-bay. On the right is William Eulong Cooper, with a long and splendid career, but at one time at St. Marys's lighthouse at Whitley Bay. Thanks to Steve for allowing this family history photo to be published.
You will have to accept my word that the badges are the same.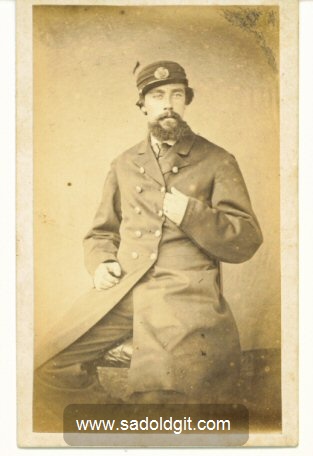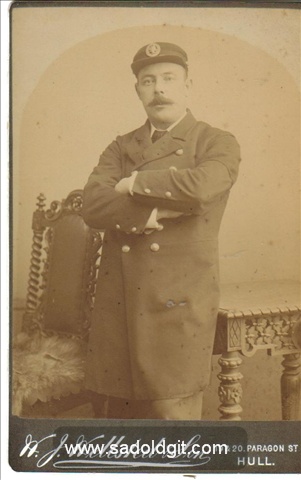 ---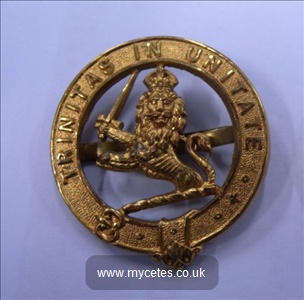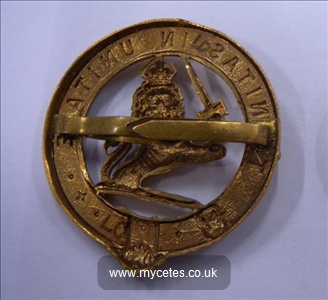 The one on the left belongs to Lyndon in Australia and shows the genuine article. The one on the right looks very much like a restrike to me.
---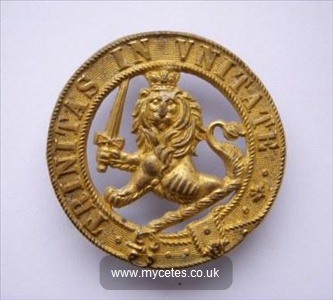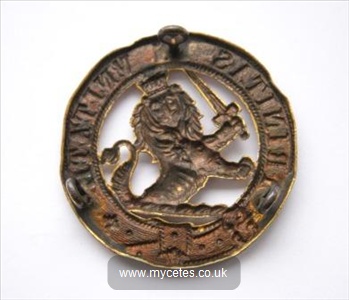 This fine specimen is among a collection of badges which belong to Manny.
---
Lighthouse keeper's caps
Here is an example of the traditional cap. I saw it for sale on e-bay and it sold for a silly price. I have also seen them for sale in a local charity shop at a give away price.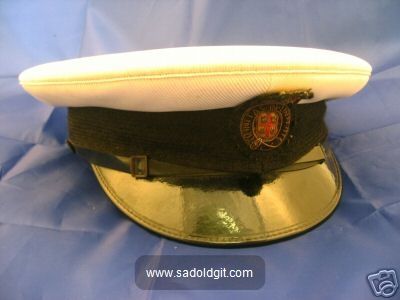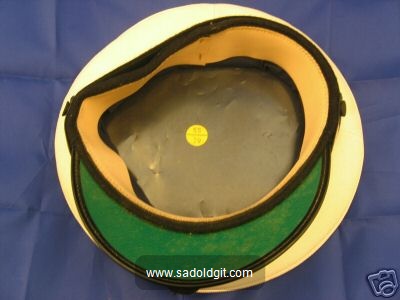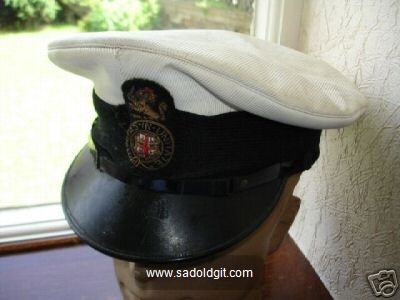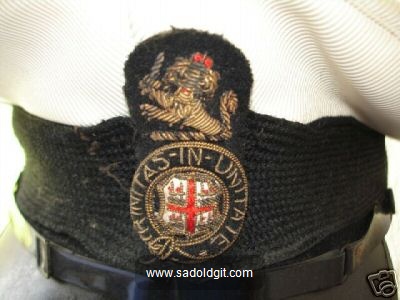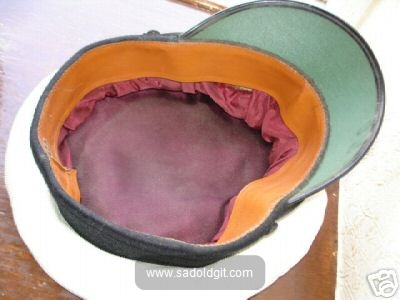 Note the free mildew - not surprising given where it spent the majority of its life.
---
Here is an example of of an older cap. This item was sourced in West Wales and is believed to have been worn by a lighthouse keeper who lived in Tenby. The cap badge indicates use between about 1920 and 1950 making this is a rare item. Its starting price on eBay was &pound 35.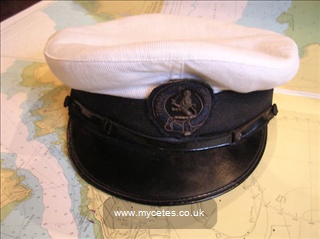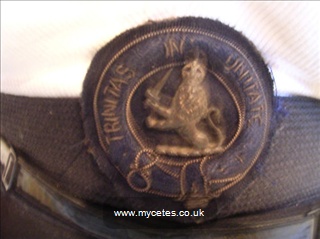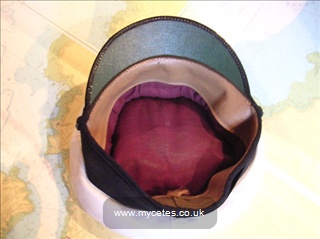 ---
Here is an example of an Irish Lighthouse Keeper's cap. As the badge is embroidered and not metal, then I assume that it is after 1972.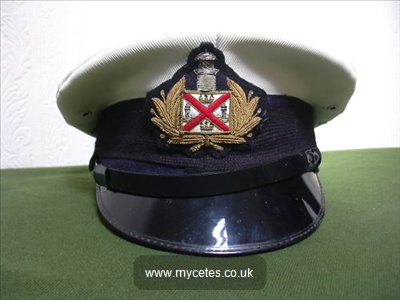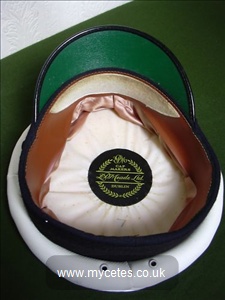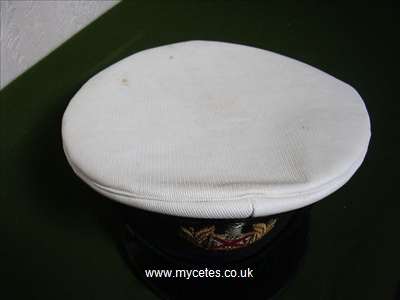 ---
Gill sent in these photos of her Irish Lighthouse Keeper's cap. It is older that the one above and probably dates from around the 1900s. I think the badge may have been silver gilt but with the passing of age and arduous polishing some of the gilt may have rubbed off and the base metal shines through. If it was silver the the cap would have belonged to a Principal Keeper and not an Assistant Keeper.
---
Lighthouse Keeper's buttons
Here is an example of an Irish; Northern Lighthouse Board Lighthouse Keepers's and Tender's buttons and finally Trinity House.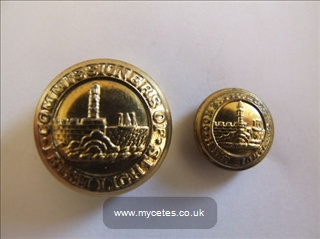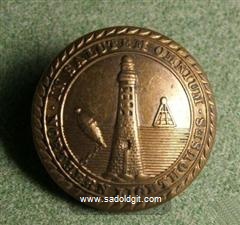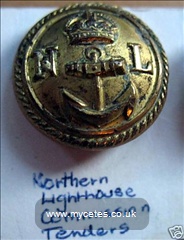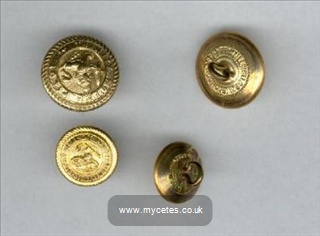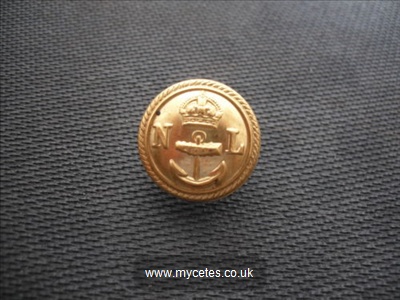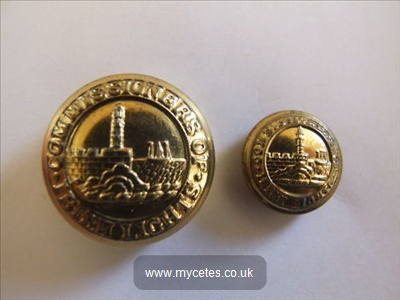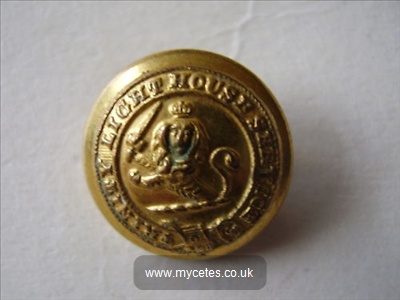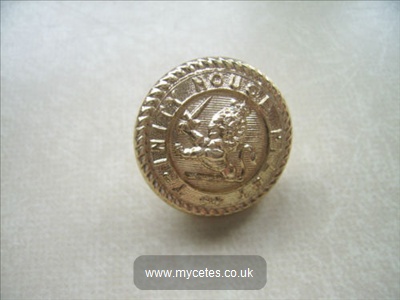 ---
Sailor's hat ribbands
Trinity House examples.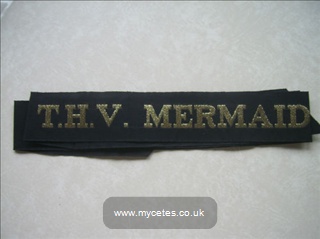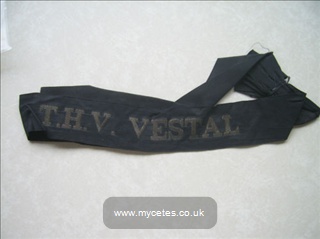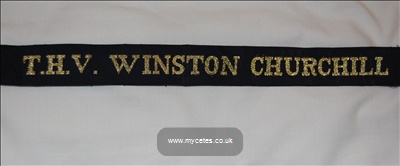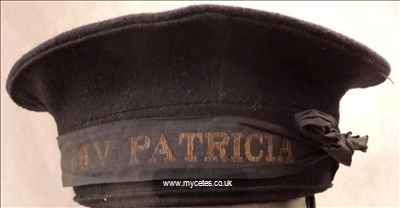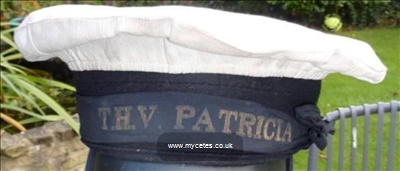 This good example of a THV Patricia hat was up for sale on eBay. It was complete with the additional white summer dress and was listed as being worn during the last war.
---
Interesting Merchant Navy Badges
This badge belongs to Manny who kindly sent me a photo of it.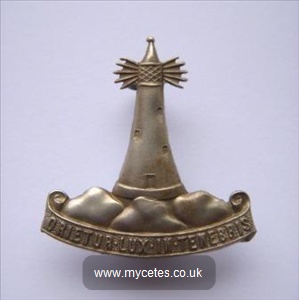 It is approx 2 inches high, die stamped in white metal with two pin loops north/south to the rear. No makers name stamp. The Latin motto is 'ORIETUR LUX IN TENEBRIS ' which translates to 'I RISE TO LIGHT THE DARKNESS'. This was the motto of Fargrove S.S.Co., of Leadenhall Street who had ten steamers at that time described as good class tramp steamers all called after lighthouses. As the badge looks very much like the Eddystone or the Wolf lighthouses; and Fargrove had a ship named the Eddystone and another the Wolf - then I conclude the badge to be the Officer insignia of the Merchant Navy Fargrove Shipping Line. About 1917 or 1918 the Company was taken over by J.C.Gould SS Co of Cardiff and no doubt the existing uniforms and emblems were discontinued. Many of the ships were lost at sea during the war - but this badge is a reminder of a great British shipping line.
---