If you cannot see the Site Map/Menu Bar on the left; then your search engine may have directed you to this page only. To go to the Home Page, click http://www.mycetes.co.uk
---
Collectors' Corner.
This page contains a selection of items that you can collect quite cheaply by carefully looking in charity shops; car boot sales; flea markets; jumble sales, eBay etc.
There is no need to pay a lot of money for any items, but the more scarce the item is, such as Goss china lighthouses, or the more important the item is in relation to lighthouse artifacts, such as an old hand pump fog horn, then the more expensive it will be. Alternatively, why not collect modern items. There are now plenty of companies that make model scale lighthouses and other curios that will suit your pocket. What ever you decide to collect please do not become too obsessive otherwise you will never have enough room to display them. Why not just settle for one theme. Most of the items on this page cost from a few pence to a pound; and some cost no more than a few pounds. There are no items of real value in this collection.
---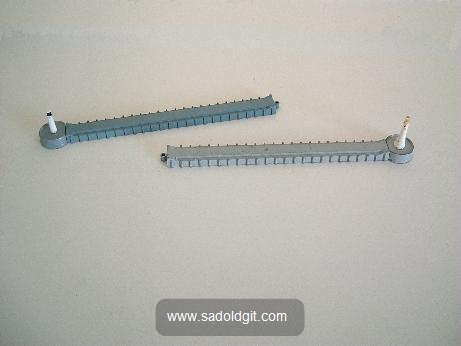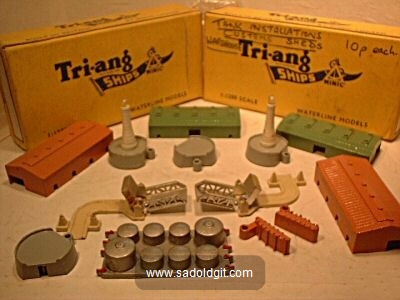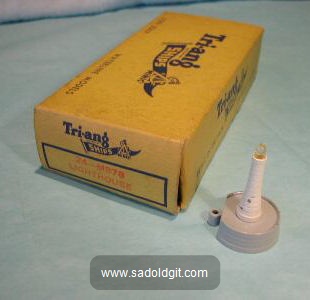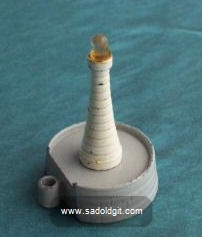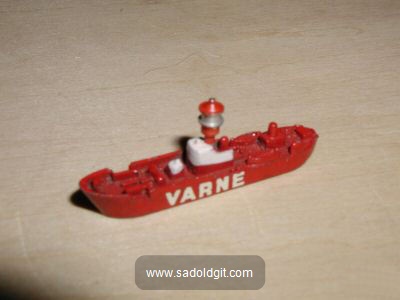 These two breakwater lights were made between 1958 and 1964 by Tri-ang for the 'Minic' series. For the enthusiast the breakwater is part number M827; the circular lighthouse base M829; the left hand model is a harbour light whilst the right hand one is a lighthouse. They come from the Tri-ang 'Ships' set which was 1 in 1200 waterline die cast. The boxed set included a swing bridge, custom sheds, warehouses, lighthouses, lock gates, oil tanks amongst other items.
---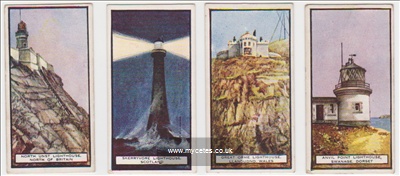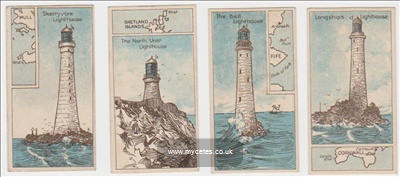 Cartophily is the name given to the hobby of collecting cigarette cards. The origins of cigarette cards go back to the 1880's. They started off life as blank cards which were inserted as strengtheners into paper packets of cigarettes. They first evolved into advertising cards bearing product details when used by Allen & Ginter in the United States in 1886. The first British cigarette manufacturer to introduce them was W.D. & H.O. Wills in 1887. John Player & Sons followed in 1893, with Thomas Ogden in 1894.
Cards were organised in sets of usually 25 or 50 on a common theme and were designed to be collected as a set. This marketing ploy was to encourage people to buy more cigarettes. They can be a fun hobby to collect but they appear to be getting more expensive and difficult to complete a set. I have only recorded those which are connected with lighthouse. For full details of these Cigarette Cards see the next page.
---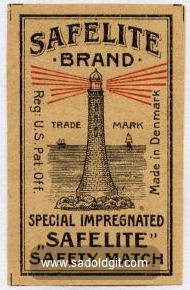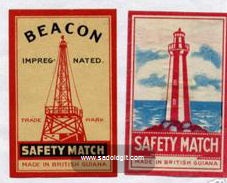 Matchbox & match label collecting, also known as phillumeny, has been a hobby since Victorian times but has a history longer than postage stamps. Friction matches were invented during the 1820s and the first recorded sale was on 7th April 1827. I cannot find any detailed history and as a general rule I find match box labels much harder to find; especially as I only collect British ones; but generally they cost about 50p each. The single one on the right sold on eBay in October 2005 for &pound 11.65. Let's hope it was very rare. There are more match box labels on the next page.
---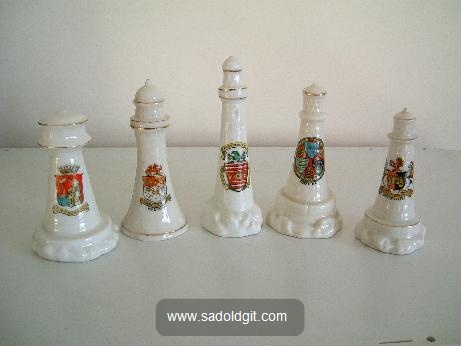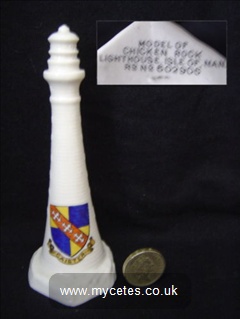 None of these china lighthouses on the left are made by Goss. They all made by the other lesser well known companies and are cheaper imitations of Goss. The one on the right is. It is a model of Chicken Rock lighthouse but bears the the name of the seaside resort of Caister.
William Henry Goss (1833 to 1906), owner of the Falcon pottery in Stoke-on-Trent, and his sons, Adolphus and Victor, are credited with the idea of making souvenir ware bearing crests and names of seaside resorts in the late 19th century, typically in classical shapes of Roman and Greek antiquities. They also made tiny replicas of visitor attractions like lighthouses.
Genuine Goss usually has an inscription on the base describing the item and also a goshawk crest with the name W.H.Goss below it. The impressed Serif mark "W.H.Goss" shows manufacture 1858 to 1887 while the Sans-serif mark indicates 1887 to 1916. Some examples carry registration numbers and these were made from 1884 to 1914. Where the Goss mark is the larger "rubber stamped" then production from 1925 to 1930 is indicated. Pieces made from 1930, after the factory was sold, also bear the word 'England'.
You can see a definitive list of Goss china model lighthouses with photos here.
---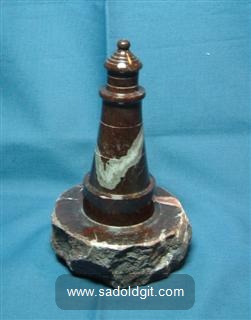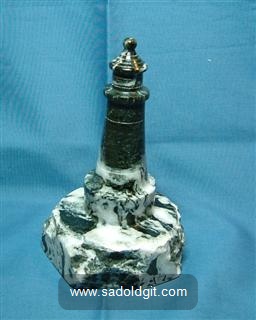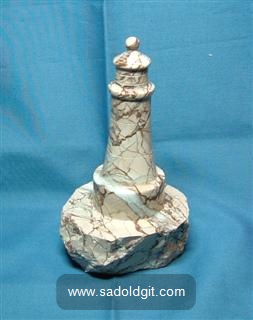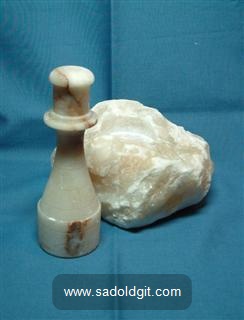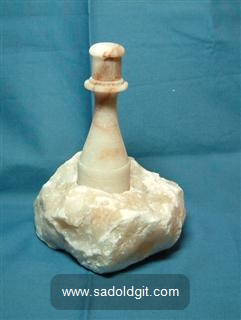 These may look like Cornish serpentine but they are not. The 3 on the left are imported and made from marble and turned in a traditional design. Nevertheless they are very colourful with the veins of colours running through them and, what is more, they are relatively cheap. The one on the right is made of soapstone, could be imported, but turned to a traditional design. It can be removed from its rock base.
---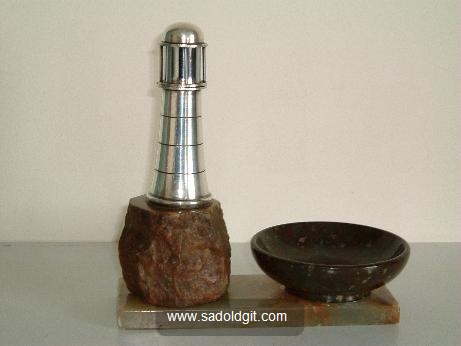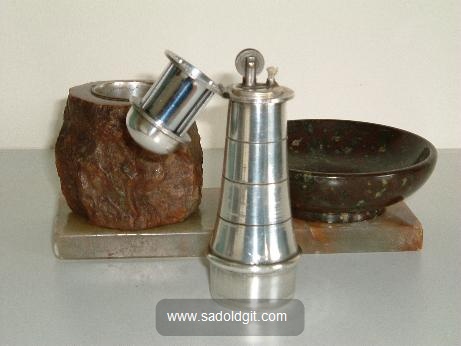 This lovely little combined lighthouse table cigarette lighter and ashtray would have graced any gentleman's lounge in the 1950s. The nickel plated detachable lighthouse is set in an onyx marble rock, which in turn rests upon an onyx marble sea, and adjacent is a serpentine stone ashtray. The hinged lantern room in the lighthouse conceals a traditional flint operated cigarette lighter fuelled by lighter petroleum drawn by a wick from a store in the base of the tower. There is a collection of more Lighthouse Cigarette Lighters here.
---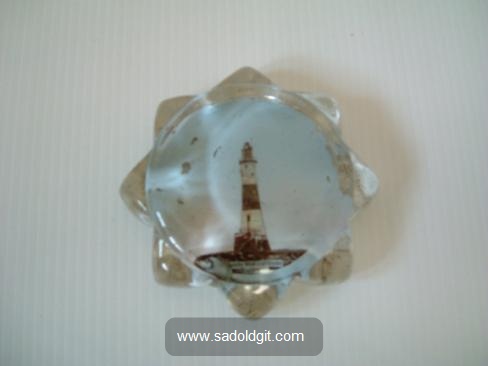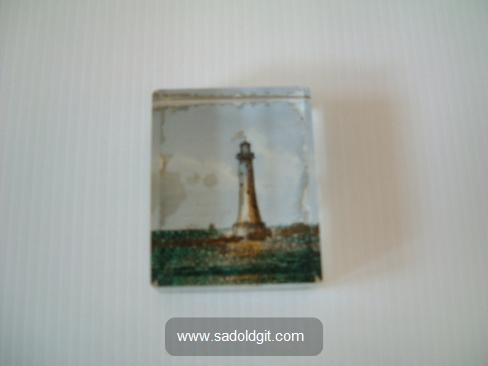 Here is a nice glass paper weight; not so smart as the Longships lighthouse one on the right, but nevertheless an early Beachy Head lighthouse at Eastbourne.
---

Enamel metal badges with lighthouses on them are becoming more popular. Here is a selection of badges awarded to bowling club members. Also there is a badge from the now defunct Trinity House National Lighthouse Museum and two identical membership badges of the Association of Lighthouse Keepers. A purist would notice that there is a slight differnce in each of the badges. There are some Enamel Badges on the next page.
---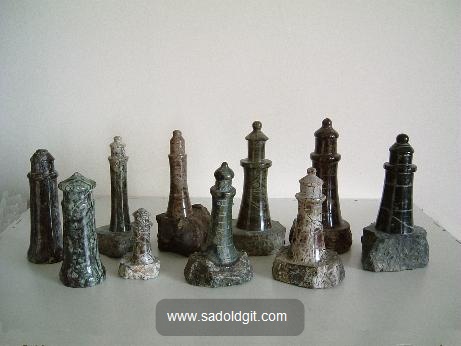 These Cornish serpentine model lighthouses come in all shapes and sizes and the larger they are then the more expensive they will prove to be. They are still made today at the Lizard by the same families that made them three generations ago. Serpentine rock is becoming a scarce resource and is only quarried by those who have inherited the 'commoners rights' to a particular source, which is kept a closely guarded secret. Any local craftsman will be able to not only date your model but also tell where it was quarried just by the colour and pattern of the rock. Usually they are models of rock lighthouses turned in exactly the same pattern as 100 years ago. Find out more about Serpentine Lighthouses
---