If you cannot see the Site Map/Menu Bar on the left; then your search engine may have directed you to this page only. To go to the Home Page, click http://www.mycetes.co.uk
---
Viewers' Photographs.
This page contains a selection of photographs that viewers have sent me, or ones that I have acquired in the course of my research. The owners have given their permission for their photograph to be posted on this site. Please remember that the copyright of these photographs is not mine.
---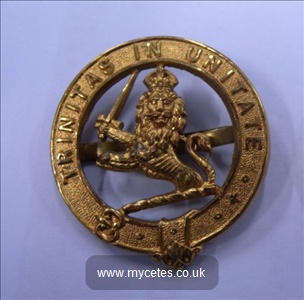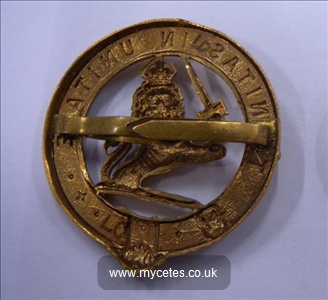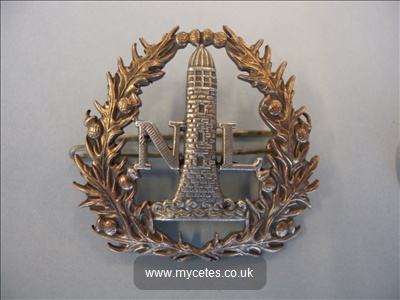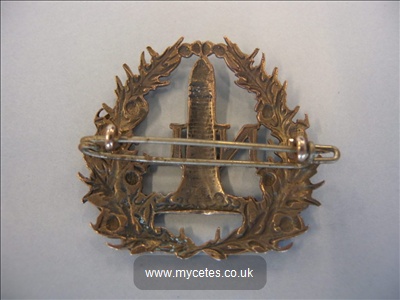 Lyndon, who lives in Australia, has recently acquired these two magnificant specimens.
---
Jeremy says - I live on the Isle of Wight in between the Needles and St. Catherines point. Recently my teenage son was metal detecting quite close to St.Catherines lighthouse and found the brass (cap?) badge attached. From my limited knowledge I think this may have been lost by Trinity House staff at the lighthouse as it was from a field in between the Light and the local village (Niton).
---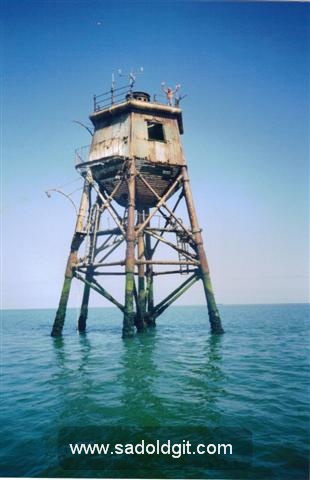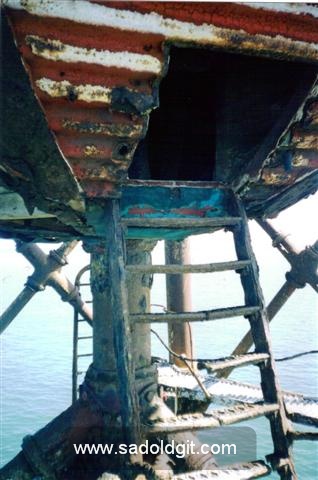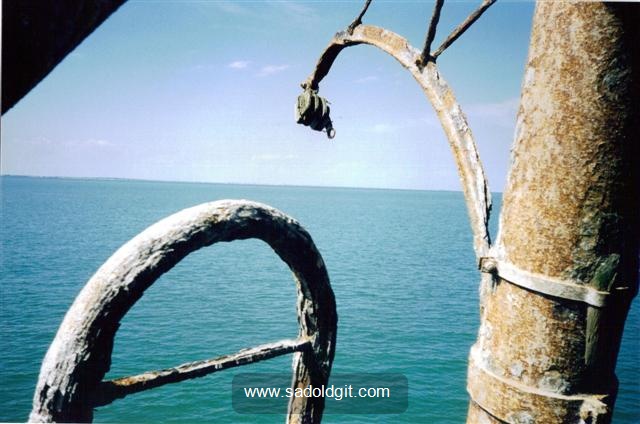 Adam is a Merchant Seaman and lives in Essex. In 2005 he photgraphed both the exterior and interior of this old derelict lighthouse at Gunfleet. Thanks Adam for an excellent set of photos. You can see all of Adam's photos on Lighthouse Tours and read about the lighthouse at Gunfleet.
---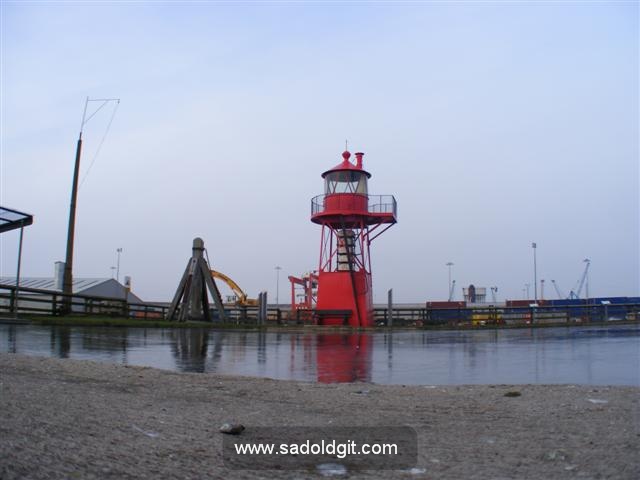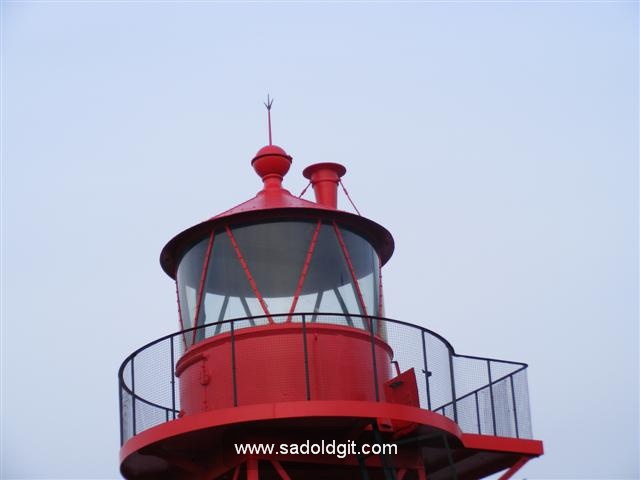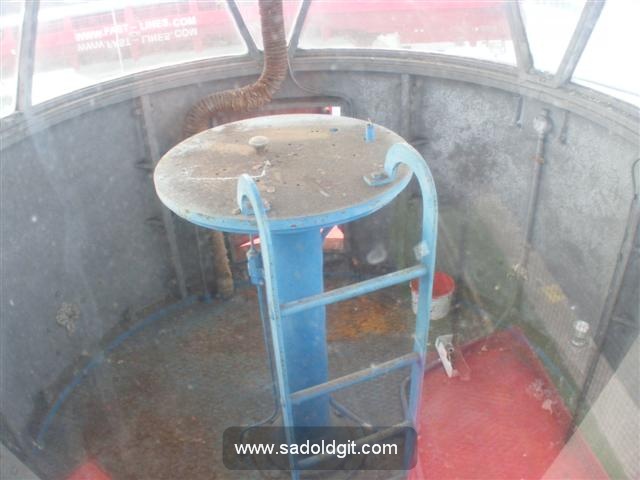 Ted, who is Chairman of the Goole Model Boat Club, took the photographs for me after he had painted the old Apex lighthouse. It was sometimes known as Trent Falls light and was situated at the point where the river Trent met the river Ouse and formed the river Humber. The lighthouse was dismantled when no longer required and re-erected on the Dutch Riverside at the Waterways Museum at Goole where it can be seen today. Thanks Ted for a grand job. You can see a larger selection of his photos of Apex Lighthouse here.
---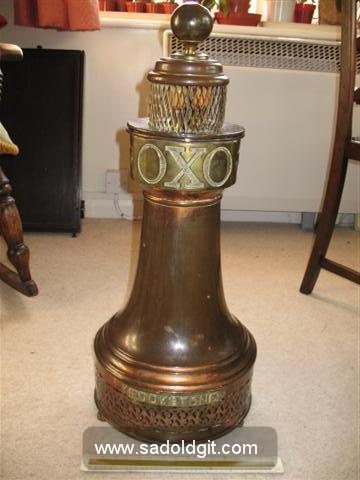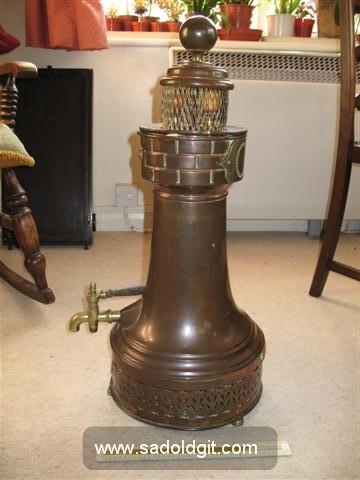 Phil has just found a 1902 oxo promotional lighthouse urn, it stands about 30 inches high, made of copper, with three little electric light bulbs at the top, modelled on the Eddystone Lighthouse. The combination of steaming oxo and electricity strikes him as somewhat hazardous, but he can find very little reference to it. As far as he can ascertain, these were provided to cafes to put on their counter to sell hot oxo drink, hence the tap at the back and the oxo sign at the front. This was actually before the invention of oxo cubes apparently - so can you help him (and me as well) and tell us all something of the history of the lovely piece of memorabilia.
Graham, who saw this post, adds "I found your site and the photo of the Oxo Eddystone Lighthouse. I have one too and mine appears to be built to stand over a gas burner. I have been told that this was used in my Granddads' shop in the 1950's as a promotional piece but I have no other information unfortunately. I have only found one other reference to these on the internet and that was one that was being sold after being adapted to an electric lamp."
---
Norman has this lovely 1894 watercolour painting by Thomas Swift Hotton depicting the old low lighthouse at Hoylake. The high lighthouse is still there but now a private house. You can read up this history of this light at Lost Lighthouses .
---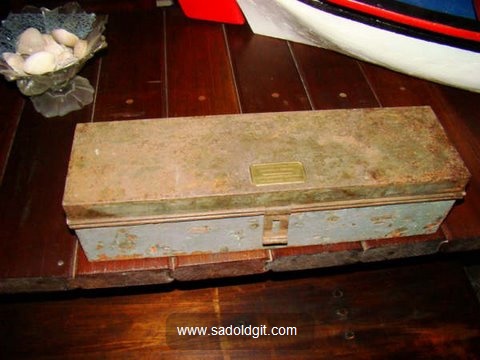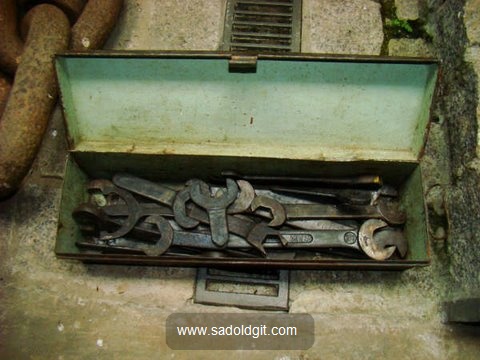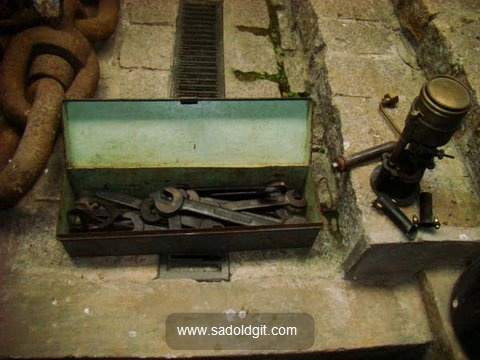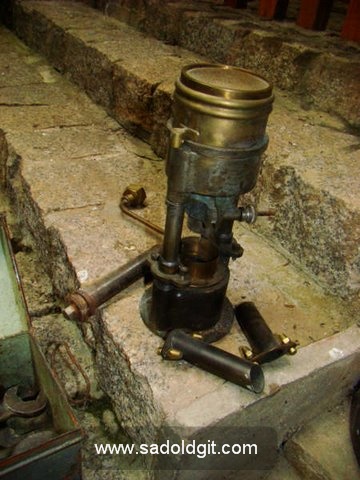 Carlos who lives in Lima, Peru has sent in these photos of a burner complete with its original box and tools. Note that it is made by Barbier, Bernard & Turenne of Paris - you cannot ger a better pedigree than that. This and other items were for sale but they have all gone now.
---
Martin's great great grandfather John Hall and his wife Elizabeth (nee Wyles) commissioned the newly built St Ann's Low Light at Milford Haven. This handsome tankard engraved 'J & E Hall, St Ann's Low Light' was presented to them in 1841. Ten years later he returned as a keeper to run it.
---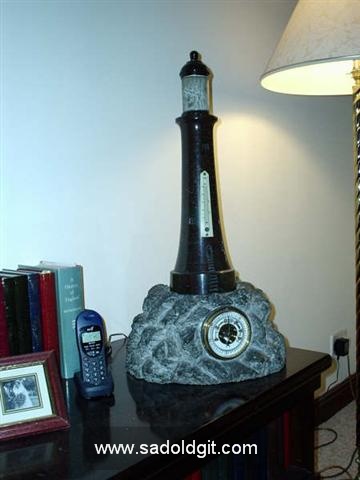 Jeff has had this lovely serpentine lighthouse for over 20 years. He wanted to know a little of it's history; so I told him and also what I thought the current value was. He was pleasantly surprised and he will cherish it for a long time.
---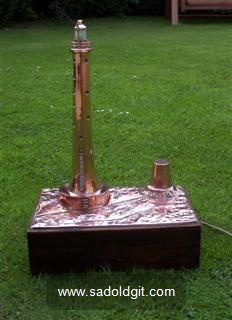 Alan's late father was a coppersmith who died in 2000 at the age of 87 years. He was a master of his craft and made this beautifully crafted model of Smeaton's lighthouse in polished copper. It is correct in every detail down to the mechanism in the base which makes the light flash to the correct pattern.
---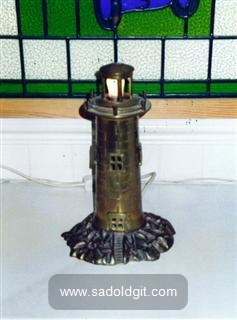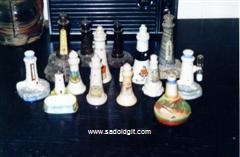 Neil is rather proud of his cast brass lighthouse made in the 1920s or 1930s. It is 12.5 inches tall and weighs 8 pounds. I am envious of this. Also shown is part of his collection of model souvenir lighthouses.
---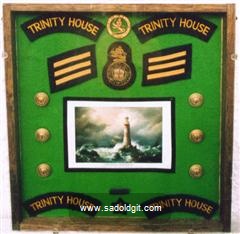 This wall hanging display case containing buttons, badges and flashes taken from a Trinity House lighthouse keeper's uniform was bought by Andre quite by chance on a trip to the Channel Isles.
---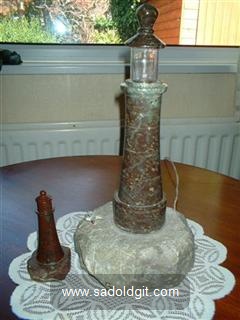 Jo needed help in identifying and dating this splendid serpentine lighthouse lamp which she bought in good working order. It is 16 inches tall and weighs 7 kilos. The lead seagull on the rock base is a give away for the year it was made.
---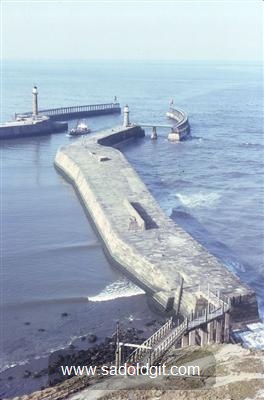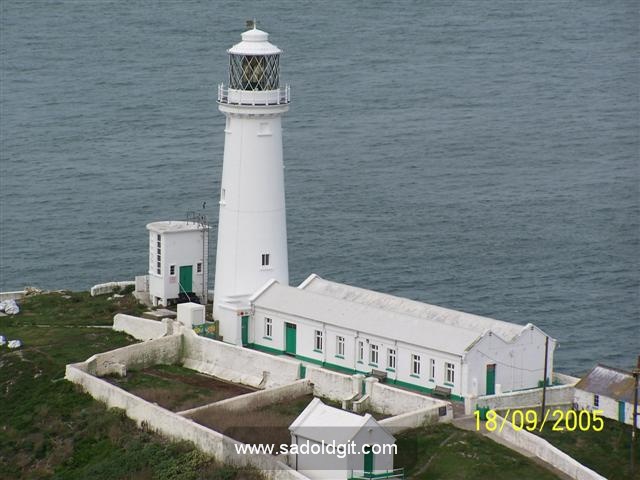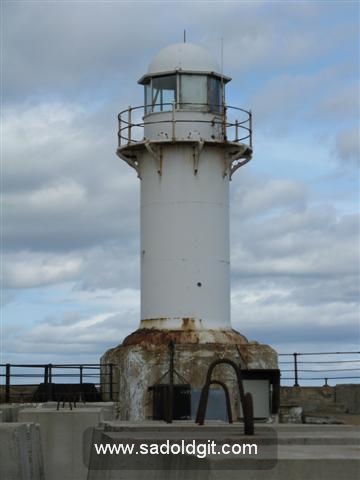 This photo ot Whitby harbour walls and lighthouses was taken by John who lives in 'that direction' with his old 35mm camera. Next is South Stack taken on holiday in 2005 and then South Gare breakwater which he took with his new digital camera.
---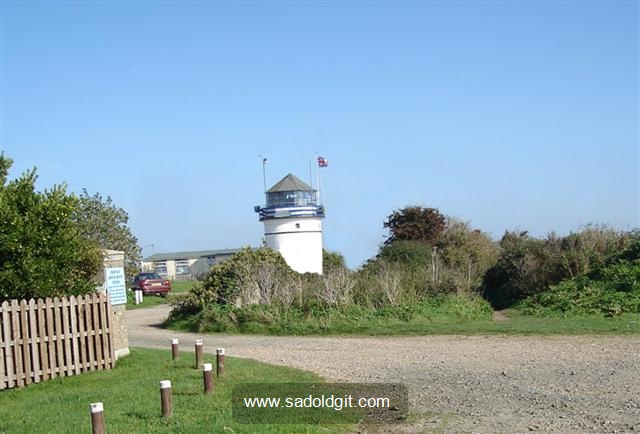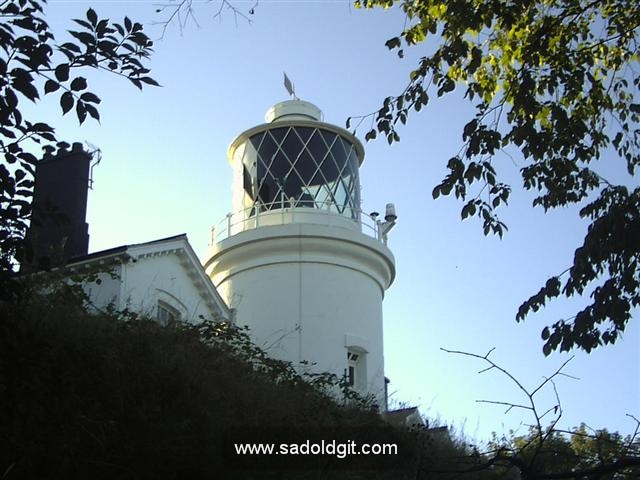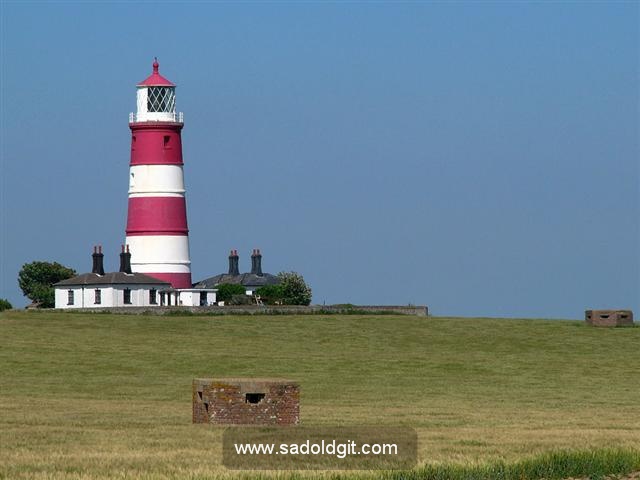 These photos were taken by Frank, a Marketing Executive, who spotted a less than generous description by me of the Pontin's Holiday Centre at Pakefield. The old Pakefield lighthouse is on the left, next to it is Lowestoft and on the right is Happisburgh. You can read up this history of this light at Forgotten Lighthouses .
---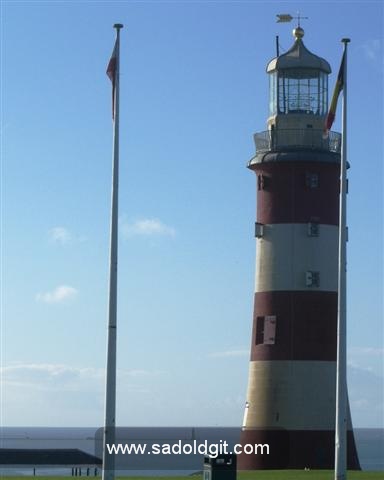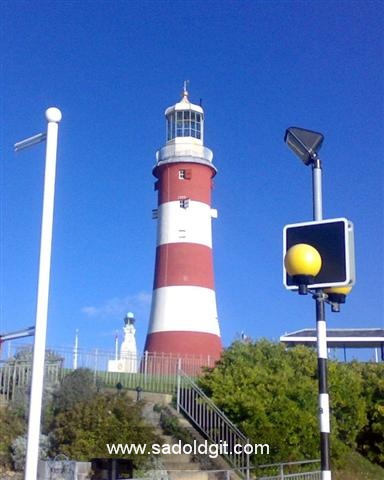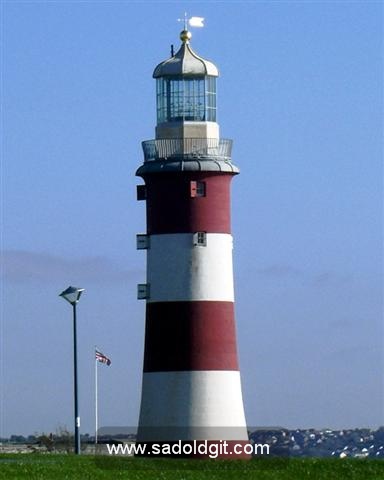 John took these photos of Smeaton's Tower in October 2007 when he was researching the family history of his great grandfather who was keeper on the Eddystone just after the Great War. You can see the breakwater light in the background of the first photo. Good shots John; thanks.
---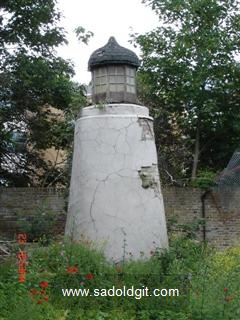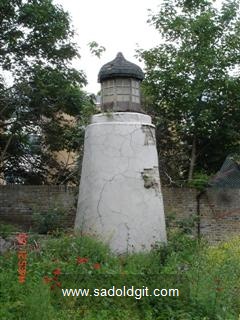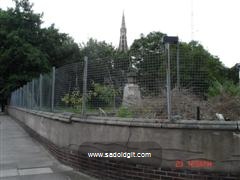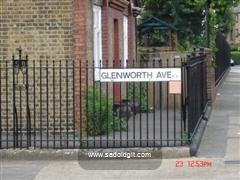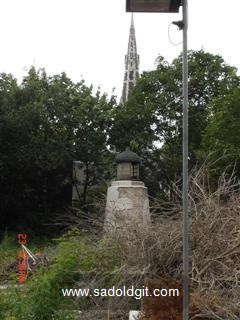 Dean, who works in London, sent in these photos as he walked past it in Tower Hamlets. He wanted to know if the building is a lighthouse. I suspect that it is just a folly, but it is a shame that it is about to be demolished.
---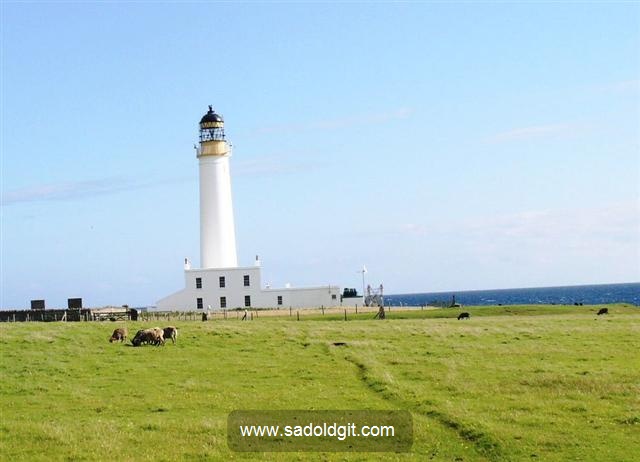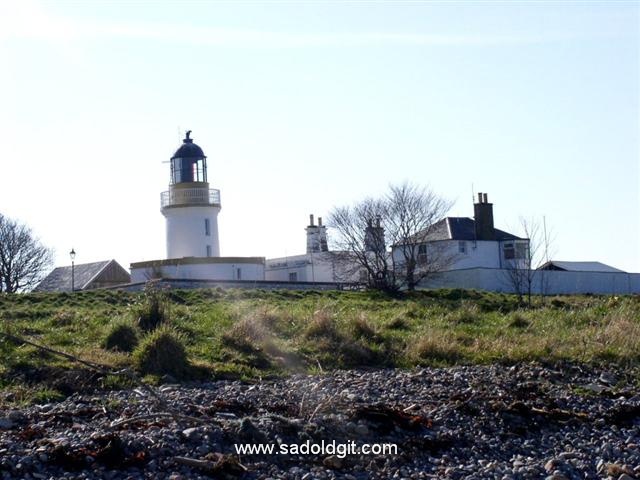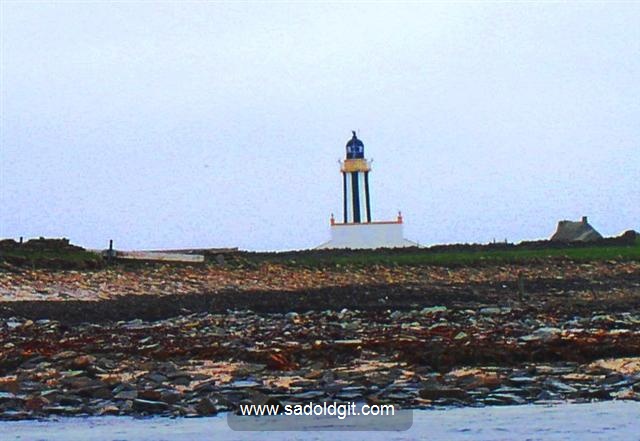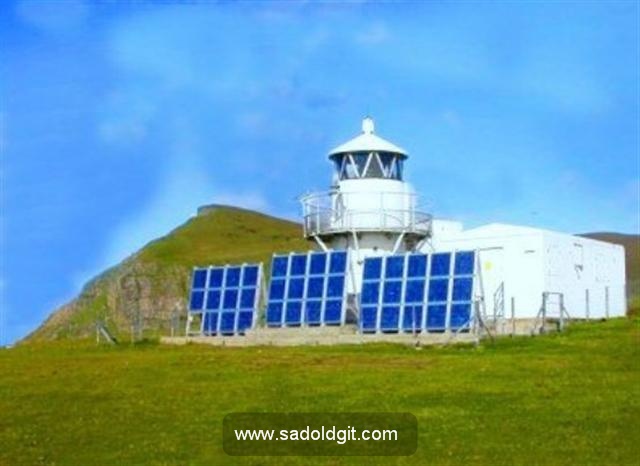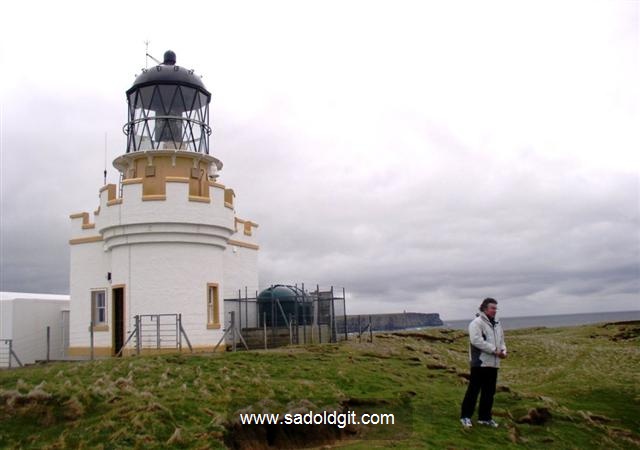 David is an aviation historian working on a project dealing with aircraft losses on the Scottish Islands. He took these photographs in the course of his research. From left to right the lighthouses are Auskerry, Orkney; Cromarty; Sanday, Orkney; Foula, Shetlands and Brough of Birsay, Orkney.
---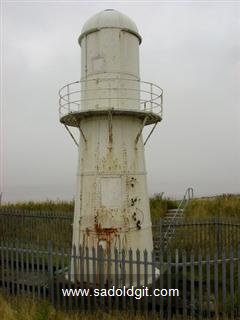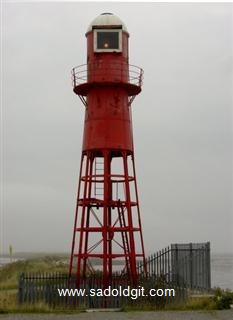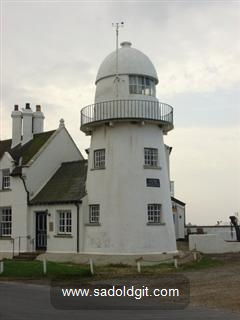 Paul, who lives in Humberside, took these photographs of the old River Humber lights. You can see more of these and other lights on Lighthouse Tours .
---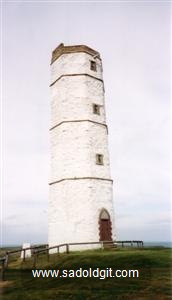 When Kitty from Fort Lauderdale, Florida was on holiday in the UK a couple of years ago she took this photo of the old chalk tower lighthouse at Flamborough Head.
---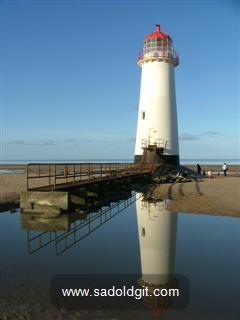 This is a particularly nice shot of the disused lighthouse at Point of Ayr, or Talacre as some people call it. Sandy took this on 13th November 2005.
---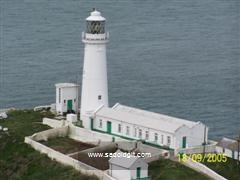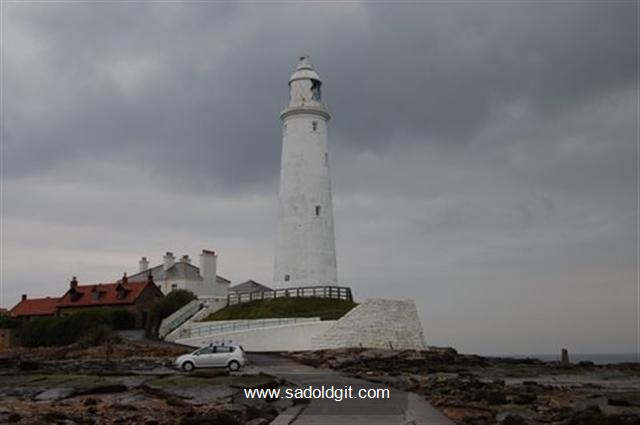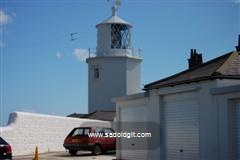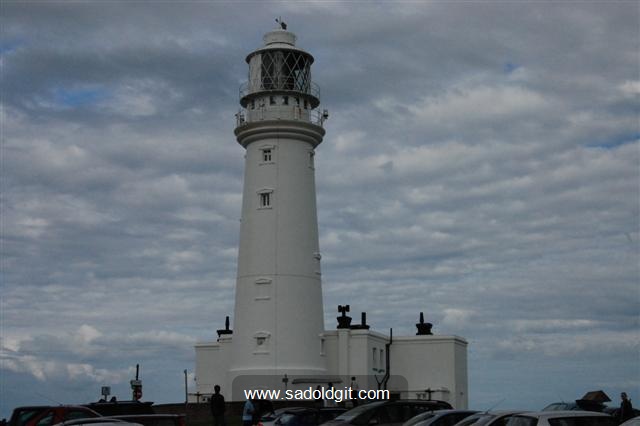 Tom took this nice shot of South Stack on Anglesey whilst on holiday there in September 2005. He also took this one of St. Mary's Island, Northumberland while on holiday in May 2007. The Lizard photo was taken in September 2007 and Flamborough in August 2008. Thanks Tom.
---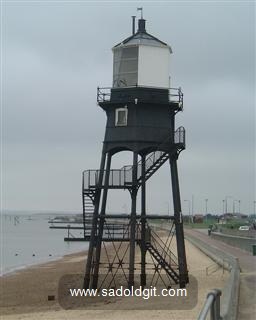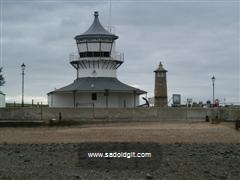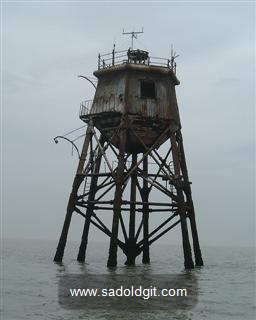 Peter took the picture of the old disused lights at Dovercourt. On the left is the High light with the Low light just a hundred or so yards in front of it. Next is a photo of the old Low and High lights at Harwich which were replaced by the Dovercourt ones. Finally Peter took a series of photos of this old rusting pile lighthouse on Gunfleet Sands and you can see these on Lighthouse Tours and read about the lighthouse at Gunfleet.
---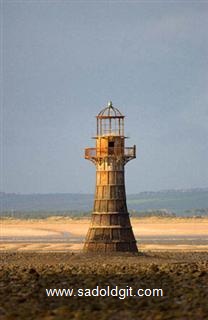 This picture of Whitford Point on the Gower Peninsular was taken by Phillip who is a professional photographer.
---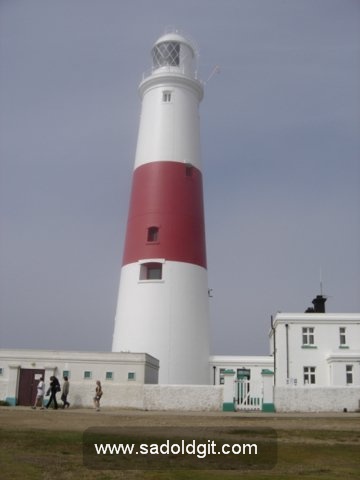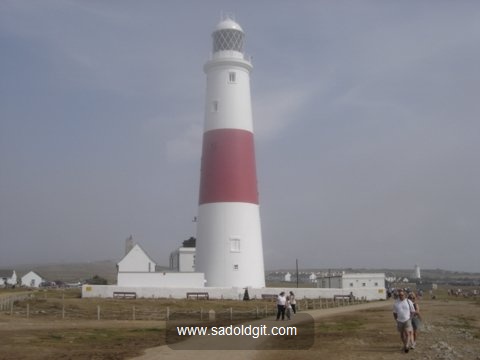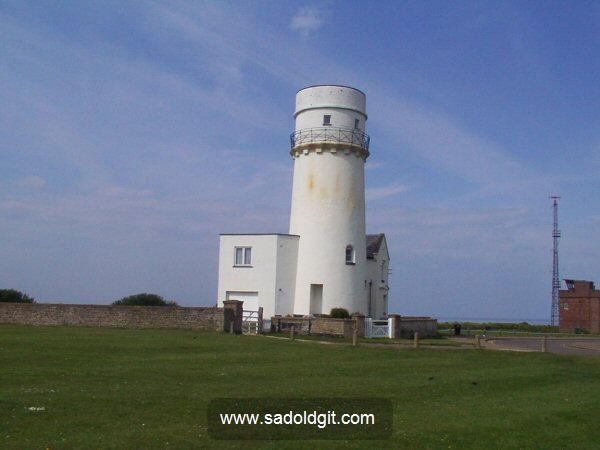 Brian from the Medway took these photographs of Portland Bill in 2004 when he took the family on holiday. He, together with his grown up children and grandchildren, climbed to the top but poor old Mrs, who had a dodgy ankle, stayed at the bottom. They had a holiday at Hunstanton on the right in 2003. You can see Brian's 2006 tour of Portland on Lighthouse Tours .
---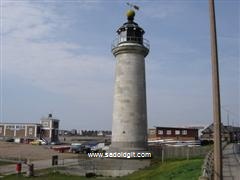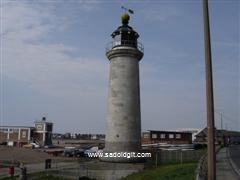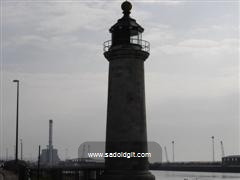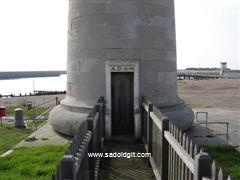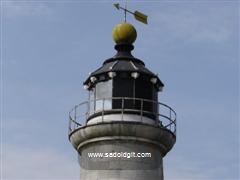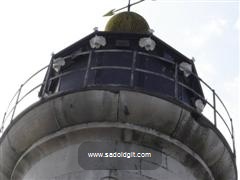 Brian took this photo tour of the Shoreham light in March 2005 on recent trip to Sussex.
---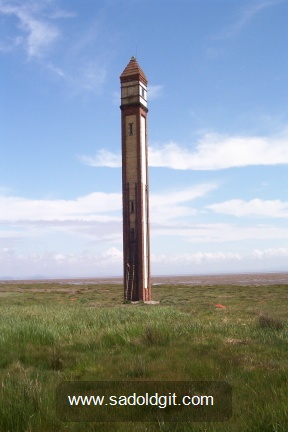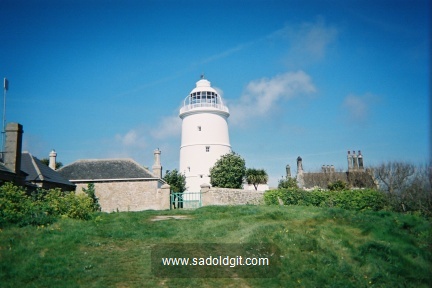 This photo of Rampside on the left was taken by Joseph of Peterborough in 2002. This is one of three pairs of leading lights but the only one worth photographing. He took this photo on the right of the disused St. Agnes lighthouse when on a trip to the Isles of Scilly in May 2004.
---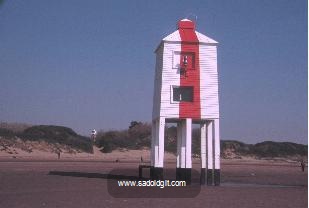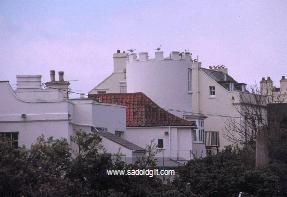 These photographs of the Burnham Low and Burnham Old lighthouses were taken by Alan of Kingswinford.
---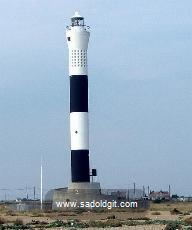 Marcus took this photograph of Dungeness. Behind and out of camera shot is the old disused lighthouse together with the circular keepers houses that wrapped around an even earlier lighthouse. You can reach these on the narrow gauge railway.
---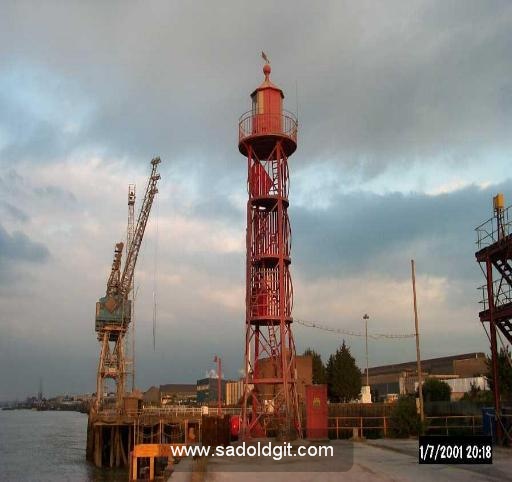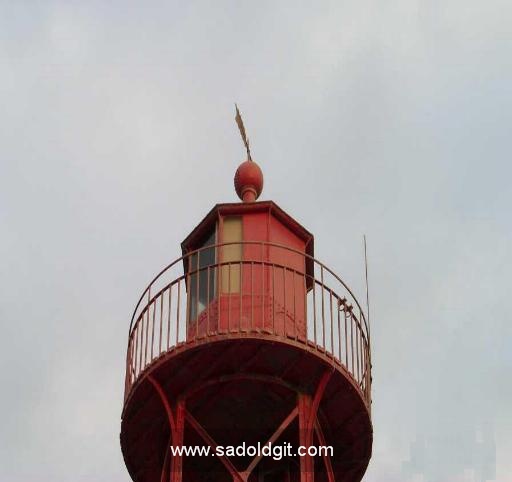 These two photographs of the Northfleet lighthouse on the river Thames were taken by the Dartford and Gravesend Building Preservation Trust on 1st July 2001.
---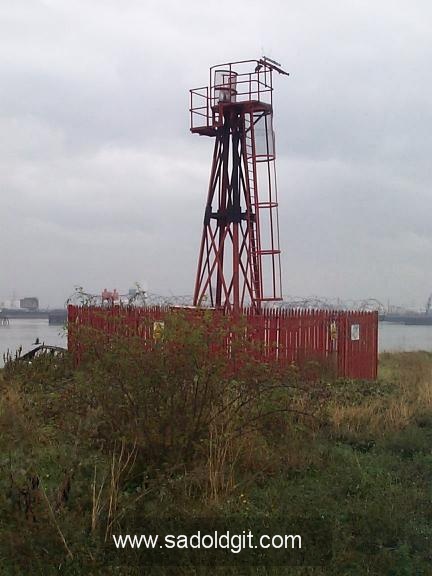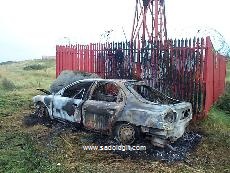 These two photographs taken by the Port of London Authority show the problems of vandalism to their London river lights. This one is at Crossness.
---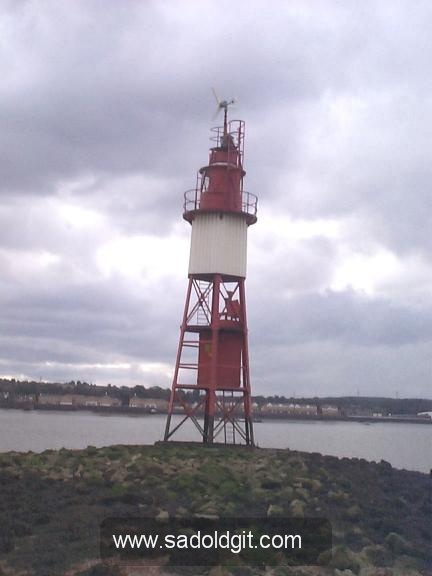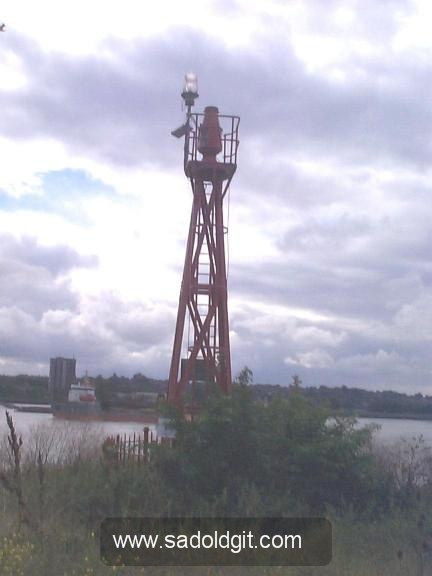 Two more photographs taken by the Port of London Authority. They show the range of the beautifully designed lighthouse at Stoneness on the left to the more practical structure at Coldharbour on the right. Please see the London River page for pictures of all the Port of London Authority lights.
---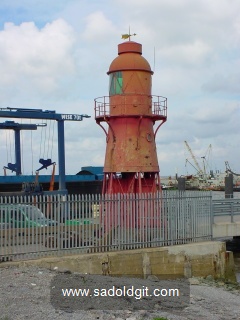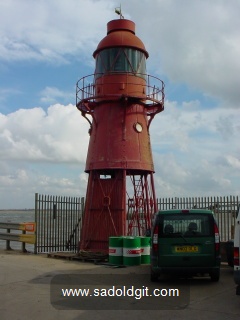 In October 2004 Roy of Rochester took these photos of the old Shornemead lighthouse at the PLA's Denton Wharf prior to its disposal.
---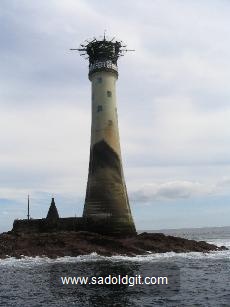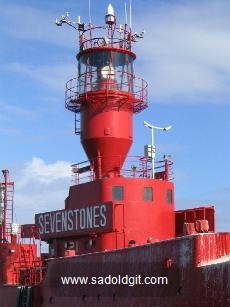 Johan from Holland took these photos in September 2003. The picture of Wolf Rock shows an exceptional low spring tide and it is not often that reef on which it stands is exposed. The Sevenstones lightvessel is the only one off the west coast.
---