If you cannot see the Site Map/Menu Bar on the left; then your search engine may have directed you to this page only. To go to the Home Page, click http://www.mycetes.co.uk
---
My Trinity House People Index.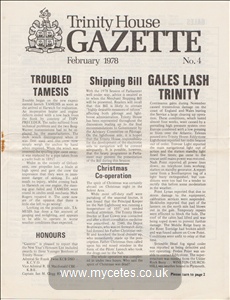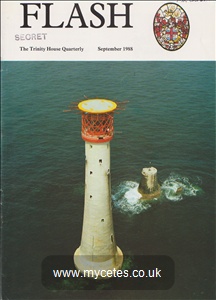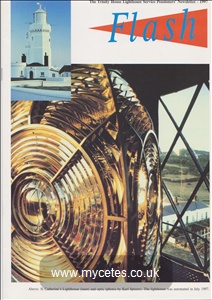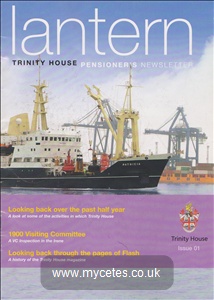 It is called 'My Trinity House People Index' because I compiled it. It does not carry the endorsement of the UK lighthouse authority, Trinity House, but it does relate to their business.
It is a searchable database of the names of people who were listed in Trinity House internal staff magazines which are publicly available. In the earlier publications transfers and promotions were mixed but for ease of indexing I have listed them as promotions only but the original information has been retained. I have excluded Elder and Junior pethren on the grounds that their distinguished service records will be widely recorded elsewhere and have excluded marriage and birth notices. Thus the index contains the names of those who worked at Head Office; Blackwall Workshop; Regional Depots; Light vessels; Lighthouses; Steam Vessels and Pilotage.
The index contains 5000+ entries to date with more to add as and when more information becomes available.
The index covers a period from 1974 to 2012 but not all publications have been searched yet.
For anyone who is genuinely researching their family history then I will consider searching the index within the parameters listed below.
The headings of the index are as follows :-
Surname
Surnames are in listed in alphabetical order. Double barrelled names with a hyphen are listed under the first part of the name.
Initials
Full names are shown in the digital scan if they were in the original document.
Status
Status will be Appointment : Obituary : Promotion : Redundancy : Resignation : Retirement. Any other status will be allocated to one of these headings.
Year
The year the magazine was issued. This date is not neccesarily the year of the event.
Source
The title of the Trinity House Publication. Many titles are similar depending on whether or not they were intended for serving staff or pensioners. Thus it may appear that some duplication has taken place but this will not be the case. The name may seem to appear twice but the scan may show a different level of information.
Number
Number represents the identifying allocated number of the high quality digital scan of the page containing the relevant entry
---