If you cannot see the Site Map/Menu Bar on the left; then your search engine may have directed you to this page only. To go to the Home Page, click http://www.mycetes.co.uk
---
Serpentine Lighthouses.
We have all been to Cornwall and seen those beautifully coloured and smoothly turned stone model lighthouses. If you have bought one as a souvenir of your last visit then here is your chance to find out more about them.
---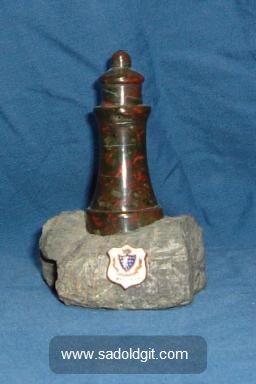 The first thing is to read the History of Serpentine Lighthouses.
Then have a look at some of the specimens I have seen for sale on the internet auction site of eBay.
Now have a look at some others in order to see if you can date or identify yours.
Here are some tips on collecting serpentine.
Here is a list of sources of reference for further research on serpentine.
I have searched all Cornish trade directories and compiled the following list. of names of people associated with the industry from 1830 to 1960.
Next there is an article from The Art Journal 1855.
Followed by an extract from Collins Photo Guide Rocks, Minerals and Gemstones.
There then follows an article The Industries of Penzance and its Neighbourhood - NO. IX - The Manufacture of Serpentine.
Next an extract from The Industries of Penzance by Peter Laws; 1978) (xi) SERPENTINE WORKING (Crofts: 7th and 14th June 1883)
Finally there is this interesting article in the Farmers Weekly in 2005 Craftsman of rare reptilian rocks
Here is a recent publication dedicated to serpentine Serpentine, by Michael Sagar-Fenton with Stuart B Smith.
---