If you cannot see the Site Map/Menu Bar on the left; then your search engine may have directed you to this page only. To go to the Home Page click http://www.mycetes.co.uk

---
AIR MINISTRY FIRE UNIT.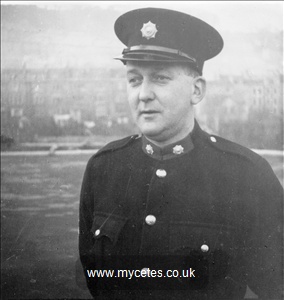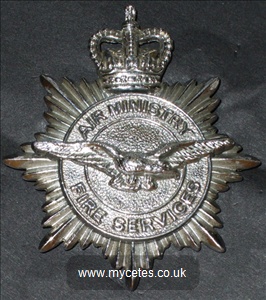 Photo of a typical fireman of the time but not an Air Ministry one; then the AM cap badge.
The Fire Brigade at Goring Heath came under the control of the Air Ministry and was manned by nine volunteers of whom 7 were civilian and two were RAF Officers. The 'Chief' was a local civilian called Charlie Clack and he held the position of Senior Fireman. Their uniform consisted of the same as the National Fire Service except that the cap badges and buttons reflected the Air Ministry.
The Fire engine was a Bantam model made by Karrier Motors Ltd, which was part of the Rootes Group, and manufactured to RAF specifications at Luton. It carried a 30-foot wooden extension ladder and a 30-gallon foam cylinder down the centre with seating either side for the fire crew. During the war years it was painted at 70MU dark green and after the war was painted red, with only M70 painted on the sides as an identification mark.
There were two sets of Coventry Climax auxiliary pumps and a Fordson Whatley or Wheelon foam tender. In the event of a fire, water could be drawn from the many static water tanks (Building No.60) on the sites or from the two semi sunken fire fighting tanks (Building No.17) on the Headquarters site. Whilst the water in these tanks was stale and full of slime; in an emergency they would serve their purpose.
Both Molly Morris and Molly White remembered the fire drills when Charlie Clack would set off a smoke bomb outside a storage shed or an office with the requirement that the workers would have to use a fire extinguisher or call out the Unit Fire Brigade. On an average it took 5 minutes from the sounding of the alarm to the arrival of the fire engine.
Vera Robbins has even stronger memories when in 1946 she was knocked off her bicycle by the fire engine when Fireman Whitehead was driving it. Jack Hatt recalls the fire hoses hanging up to dry outside the Fire Station at Headquarters site and despite the severe winter of 1946/7 when they had to prevent the fire appliances and static water tanks from freezing, 70MU Fire Brigade tied for 2nd place in the annual Maintenance Command Fire Fighting Competition.